Let Your Child Choose
We are a participant in the Amazon Services LLC Associates Program, an affiliate advertising program designed to provide a means for us to earn fees by linking to Amazon.com and affiliated sites. We participate in other affiliate programs as well. For more details, please see our disclosure policy.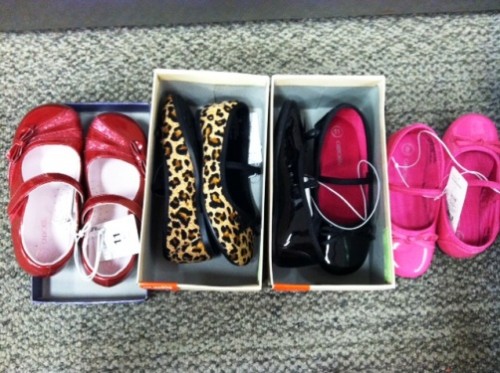 I took FishChick4 shopping with me the other day. We were just going to go to Trader Joe's. Until I remembered we needed a new pencil sharpener.
Ours bit the dust, as it does every school year. We use a lot of pencils apparently. And we'd gotten to the point that my son was going to have to do Algebra in crayon, so we needed a replacement.
We were only in Target for a pencil sharpener. But, when I unlatched my girl, I noticed that her "best" black shoes looked like she had driven Fred Flintstones' car. Oy! I'm still not sure how they got such holes in them!
We took a detour past the shoe section because no way do I have time to go back out at a later date for shoe shopping. My plan was to buy another simple pair of black ballet flats. And I swallowed some guilt as she exclaimed over every sparkly thing imaginable between the front door and the shoe section.
I was not stopping. We have groceries to get!
A better mom would have let her lollygag in the accessories, in the bras (yes, she noticed those), and in the big girl hair bands. But, no, let's get the shoes and the sharpener and go.
Then we came to the shoe section. In previous seasons, there have been one or two types of ballet flats of which I usually hide the second type and grab the black pair. They're classic. They go with everything. They're practical. But, today there were eight different kinds if there were one.
And I let her choose. Well, after I limited her options to four.
I emailed my husband the above photo so her sister could choose, too. Can you guess what the girls chose?
Bright pink and leopard print.
So not what I would have chosen for them. At least not today. But 35 years ago? Yeah, I might have.
Letting your child choose is a great way to stop and smell the roses.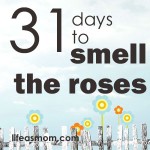 The days are long, but the years are short. I don't want to miss them! For more short and sweet ideas on how to stop and smell the roses, to enjoy the little things in life, check out my 31 Days to Smell the Roses series.
Don't miss a post in this series. Subscribe to 31 Days to Smell the Roses by RSS or email.