Enter to win a copy of the award-winning Liberty's Kids. This giveaway is now closed. Congrats to the winner: Rick.judy@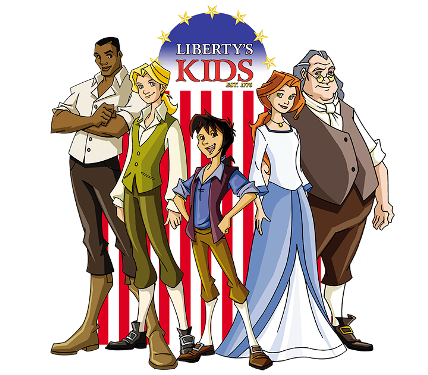 Our family is a big group of history buffs. From babe to adult, we're all fascinated by the past, stories of those who've gone before us, and why the world is the way it is. The FishBoys' first dress-up costumes including coonskin caps and tri-corner hats.
Oh yeah, history geeks big time.
Years ago we discovered the Liberty's Kids series. I remember my kids watching it while I did big freezer cooking sessions. Such sweet memories of us watching together when they were much younger. This series is packed with incredible voice talent including – Whoopi Goldberg, Walter Cronkite, Kathleen Barr, Billy Crystal, Michael Douglas, Warren Buffett, Liam Neeson and more!
So, when I heard that the entire set was released on DVD and that they were offering a giveaway, I said yes. I want you to be history geeks, too.
You can view the trailer here:
Win a copy of Liberty's Kids
One Life as MOM reader will receive a copy of Liberty's Kids: The Complete Series on DVD.
To Enter:
Simply complete the information on this form. Please know that the information is only being gathered for the purposes of mailing you your prize in the event that you are chosen as the winner. This information will not be sold, traded, or given away.
his promotion is open until Sunday, July 28, 2013, at 8 pm PST and is limited to US residents, 18 years or older. Friends and family of Jessica Fisher and Life as MOM are ineligible for entry. Please enter only once. The winner(s) will be chosen randomly. The prize for this promotion is provided by and shipped by Mill Creek and/or its representatives. Jessica Fisher and Life as MOM cannot be held responsible for lost, undeliverable, or misdirected deliveries. This post will be updated with the beginning of the winners' email addresses.