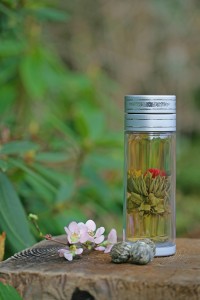 Tea is one of those elegant beverages, don't you think?
And this is coming from a diehard coffee lover. I love coffee, I do, where the flavors are bold and rugged and the mugs are, well, sturdy.
Tea is so, so different. Its flavors are more subtle. And the cups that you use for tea are, well, pretty. Ever seen a truly pretty coffee mug?
I didn't think so.
So, check out this beautiful tea glass from Libre Tea! It's a travel tea glass, specifically designed for loose leaf tea. Absolutely gorgeous. And made for drinking loose leaf tea on the go.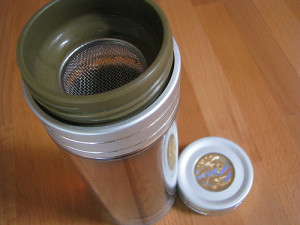 The Libre Tea Glass in Poly (also available with glass in glass) has a special filter that twists onto the glass. Use 2-3 grams of loose tea leaves, twist on the filter, brew and drink. Or alternatively, put the tea in the filter, add water, twist on the lid, and then brew it with the glass turned upside down. To drink, twist off filter and lid together.
Amazing. (And you can still use it with bagged tea if that's how you roll.)
Win a Pretty Tea Glass
Three winners will each win a Libre Tea Glass.
Simply leave a comment, telling us your favorite flavor tea.
Contest will be open until 8pm PST on Sunday, June 27, 2010. Winners to be chosen at random and notified via email. You have 48 hours after email is sent to respond, otherwise you forfeit your prize.
Disclosure: Libre Tea provided me with a product sample to review. I was not compensated in any way for reviewing this product or offering this giveaway, nor was I required to do so. My opinions are my own. For more information, please see my disclosure policy.