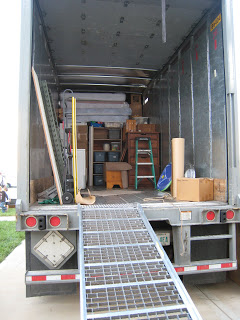 Well, it's crazy week around here. The trailer from AB Freight arrived yesterday morning. FishPapa toiled most of the last two days trying to pack things in as compactly as possible. When we moved from CA to KS, we ran out of room in the truck and therefore, had to leave important things (like kitchen chairs) behind. We are hopeful and determined that will not be the case this time around.
It has been challenging to do life with six children AND pack the entire household at the same time. Diapers to change, squabbles to referree, meals to plan or procure, baby to nurse, little people to love……
Can I just say, I want my mama!
But, as always, God is sustaining us. Even though my mother can't ditch her college students and fly cross-country to rock my baby, God is providing what we need.
SO glad that He is the One in charge of this operation.
Here's the rest of my week:
* Thursday: Pack like a woman with her hair on fire, except when someone needs something. Then find it hard to believe that I am productive.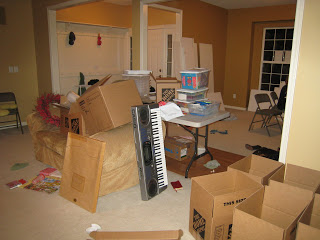 * late Thursday night: my youngest brother arrives to drive in the FishBoy convoy. Hopefully, the house will be empty and clean and the trailer will be full and ready for pickup.
* early Friday morning: fly out to California with FishBoy4, FishChick, and FishBaby. Yes, I am going with three children by myself. Yes, this was my choice. Yes, I am a crazy woman. But how bad can three and a half hours in a small, enclosed space with three small children and a hundred strangers really be? I'll be sure to let you know.
* Friday morning: greet my parents at the airport gate and hand them each a child. Relish in Man-on-man defense.
* For the remainder of the weekend, until FishPapa arrives via the open road with my brother and the three older FishBoys: get my hair cut, visit the post office, find my new library, eat at In-N-Out burger, get Thrifty ice cream cones at Rite-Aid, be spoiled by my parents.
But, there are many miles to travel before the spoiling can begin. Thanks for your prayers that we can pull it all off — with some modicum of gracefulness.