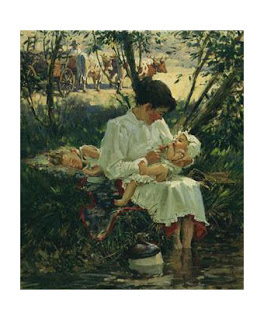 Things I am doing or thinking this week:
– Full day school can wait another week while I enjoy my official 2 weeks in my pj's. I SO much love the newborn stage, just cuddling and nursing! I have amnesia already and am wanting to have another baby. How crazy is that?! But, to me it shows God's faithfulness and kindness that I am enjoying it all so much amidst the chaos that is our life right now.
– Heading to another ophthalmology appointment today. Taking ALL six children with me. Should be interesting. SO thankful that FishBaby's eye is almost completely healed. I am still working on writing out THAT story. It was a pretty nervelating couple days for me in the hospital when no one knew what was wrong with her eye. We didn't see her eyeball for the first four days of life! She has beautiful blue eyes!
– Officially listed our house yesterday, as well as our rental. FishPapa has worked superhard over the last few days to get all the little details taken care of. Please pray that we have a wonderful success story to talk about….how about selling within two weeks? That's my big dream!
– Looking for a rental in our new locale (San Diego, by the way). Thought we found a perfect one today until we heard from the owners. All we need to do is send $2600 to Nigeria and they will send us the keys! Yeah, and I've got a waterfall to sell you on the Canada-New York border.
Please pray that we can find just the right place for our family at just the right PRICE! My brothers said the house across the street from them is now for rent. Wouldn't THAT be interesting? Built in babysitters!
– Am very, very thankful for my sweet little family. The days are slipping away. How can I enjoy my children to the fullest today?
image from Allposters.com