About a year ago this blog was born. At the time I didn't really have a clear idea of where it would go or exactly what I wanted to come from it. I was pregnant with my sixth child, busy with the care and education of five children, overwhelmed with debts, and wondering if a cross county move was in our future. There were so many unknowns in my life last May.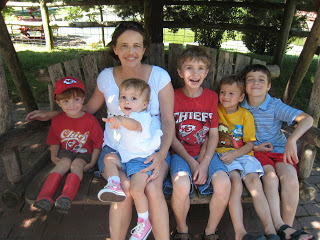 But, I wrote and I thought and I prayed.
And you read. And you commented. And you prayed, too.
And today I thank you.
Thank you for listening to me. Thanks for commenting so I could be reassured that I wasn't talking to myself. Thank you for commiserating with me when things didn't go as plans. Thanks for cheering at my successes. Thanks for proving to me that I'm not alone in this life as MOM and this journey to being a not-crabby mom.
So many names pop in my head as I think over the last year: Mrs. Querido, MammaLibby, Honey, Topaztook, Lynn, michellenotdawn, Mommykerrie, JessieLeigh, and all the Jens, Amys and Carries who've taken the time to say, "Hey."
(And if your name didn't pop into my head while I was typing, please forgive me – I have "mommybrain" something fierce!)
You, dear readers, have watched me have a baby, pack up my home, get on a plane 1 month postpartum with 3 children four and under, relocate into a new town and new life, mourn the loss of a loved one, bake cakes, write ebooks, and get out of debt.
You've humored me over all my grocery geek stories and pictures, laughed with me over my weight losses and cow costumes, encouraged me when I felt mommy-judgement, and helped me to see the different sides of the coin called "family planning."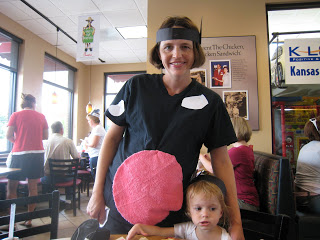 I think I've grown as a woman and as a mom over the last year. And while our "virtual interaction" in no way takes the place of sitting with you over a cup of coffee and a fresh donut while our kids play Legos in the background, I have valued the part that you, my readers, have played in my growth. So, thank you.
Thank you for your patience as I figure out what I'm all about here. Thanks for reading. Thanks for your prayers and encouragement.
I hope that you've found some of that same encouragement here over the last year. It's my prayer that this blog will only increase as a place where moms can laugh at themselves and get better equipped for the road to joyful motherhood.
This week, I'm celebrating both a Blog Birthday and Mother's Day. I hope you'll celebrate with me. Check back throughout the week for
SIX great giveaways
mom-inspired and mom-inspiring posts
and, of course, a pretty.cool.cake.