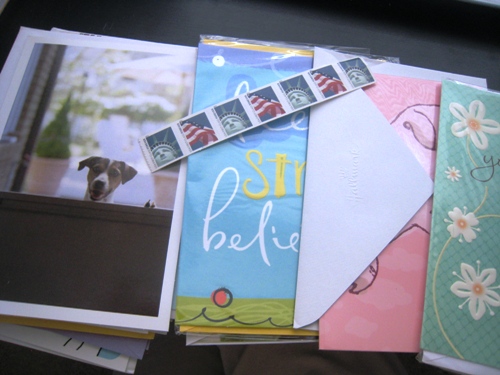 Remember these?
When I was a kid, I loved to browse the local Hallmark shop where the owner, Jan, gave you the stink eye if you raised your voice or rattled a shelf. Still despite Jan and her library ninja attitude, I loved those rows and rows of cards with their bright colors, funny sayings, and crisp white envelopes. I was blessed with aunts and grandmothers who always remembered to send a card on my birthday. Always. So me and a Hallmark card go way back.
Yet, in an age of texts, emails, and voice mails, it's easy to let real mail slip out of your daily existence. Yet, "snail mail" is really so much more fun!
Snail mail rocks.
In my younger days I was the ultimate pen pal. I wrote letters back and worth to Gramma John, Aunt Cass, and my cousins. When I was an exchange student in France, I regularly wrote FishPapa-then-just-my-boyfriend and eagerly awaited his return letters — which are currently bundled in a box in a garage for us to read over and over when we're old and gray. And the arrival of the daily mail has always, always, ALWAYS, been one of the highlights of my day.
Just ask any sibling, parent, or former roommate of mine.
But, I must confess that in my old age I've gotten lazy. I might send you a card at Christmas. Maybe. I might send you a birthday card. But, probably not.
I've become too reliant on email, Facebook, and my phone instead of picking up pen and paper and writing a real letter. In fact, I still have our box of Christmas cards from last year that I never mailed.
(Note to self: don't order Christmas cards anymore.)
Get Carded
So, when Hallmark challenged me to write real letters to my friends, it really was a challenge. But, it was a fun one. They sent me a ginormous stack of cards and encouraged me to choose seven people near and dear to write to — because life is a special occasion. What fun — and how hard — to narrow it down to seven. But, I did.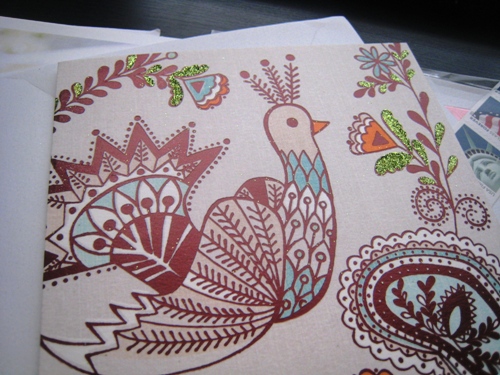 The cards were all so unique and different, it was fun to think of a friend based on the card, instead of the other way around. I sent them to my sisters, my mom, the Great Aunt Cass, and three of my forever friends: Shari, Sheila, and Jessika. These are all ladies who've been around for multiple moves, multiple babies, and multiple hard times.
And they are a steadfast bunch! I've known these ladies from 7 to 39 years, so they've proven that they know how to put up with me! As I was writing my cards, I realized how much I take them for granted, and tried, albeit imperfectly, to tell them what they meant to me. I am one blessed woman.
Only three of the seven live in the same state as I. The rest are flung about the country — or will be soon — so I also realized that relearning to write letters might be a nice thing.
A little surprise that I added to my cards was a little something extra, a photo or a gift card or a little fun money to share with the people I love. THAT was really fun, too. Wouldn't you love to receive this in your mailbox? 😉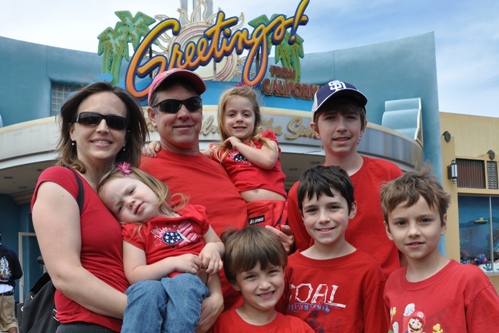 Of course, the best part of the challenge was to hear back from someone. Today my friend Shari wrote me and explained how perfect the timing was and how it really gave her a boost. What a lesson to me! I want to do that more often. There are many wonderful women in my life who support me and listen to all my "issues". I want to say thanks a little more often.
How 'bout you? You can take the Get Carded Challenge, too.
Win some cards!
Hallmark is offering greeting card packs to ten LifeasMOM readers.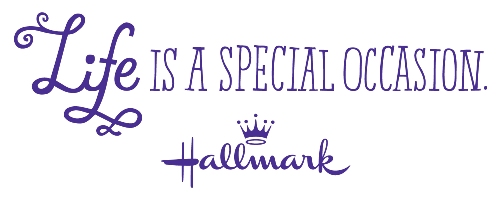 How fun is that? They'll mail you a selection of greeting cards so that you can spread the love. Some of the cards even come with the postage paid so you don't have to worry about a stamp.
To Enter:

Leave a comment on this post of the first person who came to your mind when I talked about writing to people you love.

For extra entries,

Like Hallmark and LifeasMOM on Facebook and leave another comment telling me you did so.

Follow Hallmark and FishMama on Twitter and leave another comment telling me you did so.
While you're on Facebook, you can also enter the "_________ is a Special Occasion" Contest for a chance to win $5000.
This giveaway will be open until Sunday, July 24th at 8 pm PST. Winners will be notified via email. Please respond within 48 hours in order to claim your prize.
THIS GIVEAWAY IS NOW CLOSED. CONGRATS TO THE WINNERS: joannamattas@, bloggy@, emilyanndietrich@, rsjrocks@,  Zealmag@, delongnb@, mwsrjones@,  lavonne.long@, fmschwartz@, emilyjgaitonde@
Disclosure: I'm partnering with Hallmark to bring you ideas for celebrating life, the ultimate special occasion. I've been compensated for my time and have been provided with greeting cards and stamps to participate in this challenge. However, my opinions, jokes, family photos, little extras, and funny quirks are all my own.