Life's an Adventure – Be Who You Are
We are a participant in the Amazon Services LLC Associates Program, an affiliate advertising program designed to provide a means for us to earn fees by linking to Amazon.com and affiliated sites. We participate in other affiliate programs as well. For more details, please see our disclosure policy.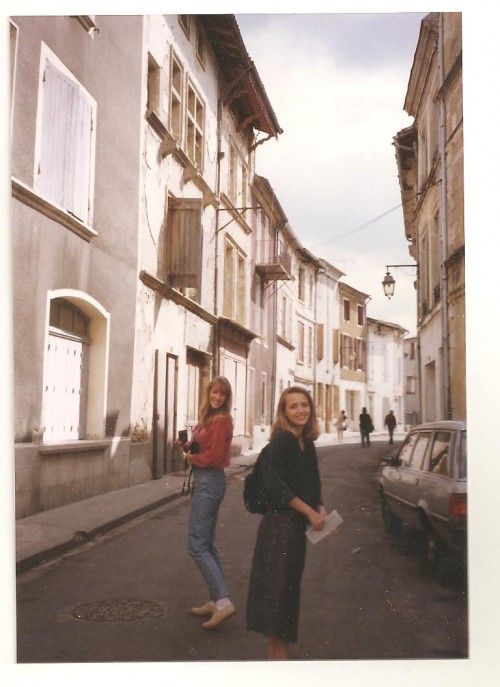 See that girl on the right? That's me, almost twenty years ago, traipsing through France on my own. A student at the Universite de Bordeaux, I was on a one-year Junior Abroad program. It was an amazing time. And I'm amazed when I look at this picture! I was thin, young, naive, and had great skin.
A lot has happened since then.
Certainly, my life is richer now than it was then. I was already head over heels in love with this guy when I got on the plane, but we sealed the deal a year and a half later to make me Mrs. Fish. I never in my wildest dreams thought I would have more than two children; today I'm the mom of six fantastic kiddos. I would not change a single player in this wild, crazy life of mine. I thought France was a dream-come-true. And it was for the time. But, having the rich family life that I do tops even that.
Back then, I loved writing, good food, and all things French. Not much has changed since then.
I still wear my heart on my sleeve. I still love to have heart-to-heart talks with a friend over a cup of good coffee. I still value depth of friendship over having multitudes of friends.
Back then, I kept a careful ledger of every penny I spent – in francs and dollars! Yeah, I was always weird.
Yes, I'm a different person. I'm a wife, a mother. But, I'm still some of that same girl. Hopefully, just improved since then. Hopefully, some of my weaker qualities have been pruned away and some of the positive aspects of my character have been enhanced since then.
Hopefully, I'm not being someone I'm not. That's my hope – to be me. In my life. In my friendships. In my blog.
And that's who you should be, too. Be you.