Surfer Beach Cake
As an Amazon Associate I earn from qualifying purchases. For more details, please see our disclosure policy.
Some frosting, some candy, and a few toys make for an easy birthday cake that any surfer or beach bum would love.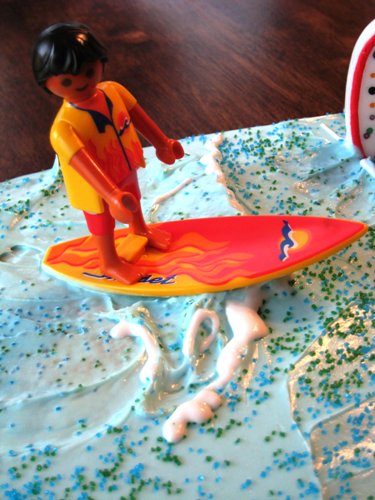 Hosting a Summer-themed birthday party? Want a little beachtime fun? Have I got the cake for you!
Last month one of the FishBoys chose "ocean" for his birthday theme. We made an ocean pinata and this cake. This is the cake that the FishBoys claim rivaled the Indiana Jones Birthday Cake. What can I say? They're easy to please, thank the Lord! (If you haven't checked out my Birthday Cake Primer, go here for some basics. And Indy fans, this one's for you.)
Now, back to the Beach! This is super easy to do. You can do this! Not hard. Not hard.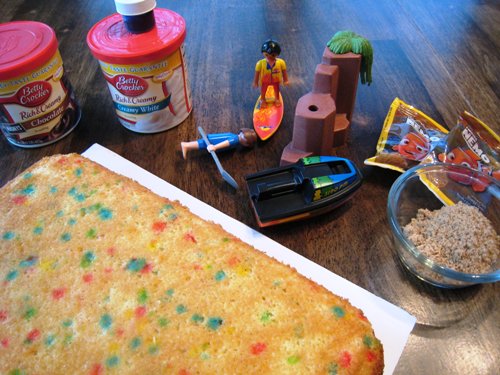 You will need:
– a basic sheet cake
– chocolate frosting ('cause it tastes better)
– white frosting
– blue and green sprinkles or colored sugar
– blue paste food coloring
– assorted Playmobil beach-themed toys
– a small tube of white frosting
– Nemo or other fish fruit snacks
– brown sugar
– toothpick
– paper flag
– scotch tape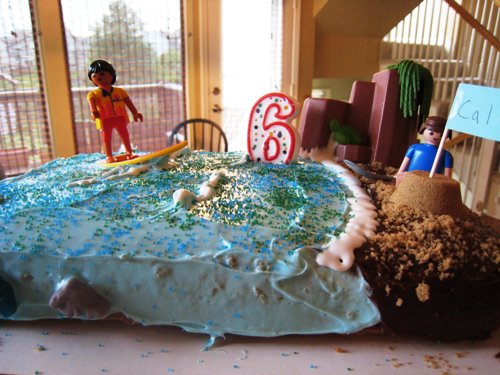 * First, lay out your beach line. Frost one side brown and the other blue. With your knife or spreader, rough up your ocean a bit so that you've got some waves going. If you have a surfer toy, make sure he can catch a wave.
* Sprinkle blue and green sprinkles all over the blue "water" side.
* Sprinkle brown sugar over the brown "beach" side.
* Place rocks along the shore line. If you don't have toy rocks, you could use candy rocks sold in bulk candy stores.
* Using small tube of white frosting, pipe some seafoam where the ocean meets the shore. Pipe more along the tips of the breakers that you roughed up in the blue frosting.
* Pack brown sugar into a small cylinder container (I used a cyclinder-like tablespoon) for a sand castle.
* Craft a paper flag and tape it to the toothpick. Insert it into your sandcastle.
* Place your other toys and candles.
* Place Nemo fruit snacks around the edge of the cake as fish swimming in the sea.
If you end up making an ocean cake, share your embellishments in the comments!