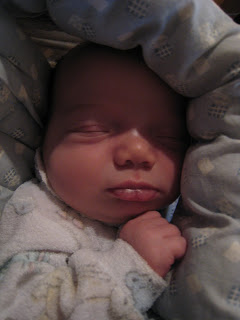 Obviously, I'm fluctuating between baby thoughts and moving chaos; all my recent posts seem to reflect that these days. That's my "Life as MOM" right now. Hang on, though, another two weeks and my life will be back to normal.
Whatever that is.
In the meantime: check out these links for some great baby stuff. (You don't have to be in the babystage of mothering to benefit from some of these links.)
JessieLeigh has a great resource for parents of preemies. If you or someone you know has a premature baby, you definitely want to check out Parenting the Tiniest of Miracles. There is great wisdom and practical help to be found there!
What's in a name? Visit Baby Naming Traditions from BabyZone.
A few weeks ago I was too sick, incapacitated, and stressed out to share how the FishFam Welcomes a New Baby. Read this article to learn about some of our traditions that we've developed over the years.
Overcome by "morning" sickness? Check out what Crystal's doing to cope.
Also, read my tips on balancing pregnancy and motherhood.
Next time I have a baby and someone wants to bring me dinner, I'll take this: PW's Uncle Luchan's Enchiladas. Yummy!
Found anything cool online that you want to share? Email it to me at lifeasmom@sbcglobal.net