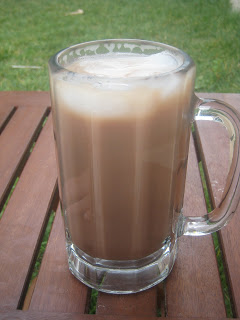 You know that I'm a big fan of do-it-yourself-ness. While I love to have someone else do the work for me, my budget says, "What?"
So, over the years I've learned to make things myself – or find less expensive ways to get the full-service experience. And since coffee is almost as necessary as water at our house, we're finding frugal means to enjoy it as much as we can.
Here are a few ways to get a good cup of joe on the cheap:
Sign up with Gevalia coffees to receive 3 boxes of coffee for $3. Plus, they throw in a free travel mug.
Earn Swagbucks by using their service as your search engine. Trade your points in for free gift cards from Starbucks.
Got leftover coffee in the pot? Freeze it into ice cubes to add to iced coffee drinks or homemade frappucinos.
Try this recipe for Mexican spiced ice blended coffee from Baking Bites.
Create this fancy dessert that they made at a restaurant I worked at: Place one scoop of vanilla ice cream in a glass. Fill glass with chilled, strong coffee or espresso. Add a tablespoon of your favorite flavored syrup. Top with lightly whipped cream and a dash of cinnamon.
Prepare this recipe for Vanilla Caramel Syrup to use in coffee drinks.
Browse coupons.com for a huge variety of coffee coupons: Starbucks, Seattle's Best, Maxwell House, General Foods International Coffees, and Eight O'Clock.
Whip up my favorite Iced Mocha.
Anybody have a recipe or a trick for frugal coffee drinks?