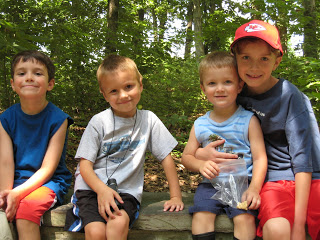 Here are some of the places on the World Wide Web where the FishBoys like to surf. (Because after all, some of them don't even know the sound of the ocean.)
eBay – This is the go-to site for all things GameCube and Lego. Our eldest is getting very adept at watching auctions and even selling games that they no longer play. Recently, they've been contemplating buying a Wii. I, for one, do not pay for those things. So, they have been "gazelle intense" about weeding the flower beds and doing other paying jobs.
Lego – The boys love this site to window shop, watch funny videos and play the different games hosted by lego.
Playmobil – one of the alltime favorites. They check out new lines of toys, but more specifically, enjoy the online games.
Mightygiants – we recently discovered this site while I was hunting for coupons. (It's sponsored by Green Giant vegetables.) FishBoys 7 and 6 enjoyed playing the nutrition game.
Google – used for all kinds of searches, but particularly to study GameCube cheats and the current deals and information on Nintendo gaming systems. The FishBoys are pooling their money for a Wii.
Qubo – Prior to the government subsidized "digital converter box" in March we NEVER watched television. Now, we basically keep the kids' viewing to this channel (except for when their mama is on the news or there's some big sporting event that can't be missed). We check the website often to make sure that we know the tv schedule and don't waste their tv allowance (30-60 minutes in summer) on something lame. Their favorites? Pecola and Jane and the Dragon. Jane and the Dragon is also FishPapa's favorite and they plan their Mama-free Saturdays around Jane.
Our library's online catalog – Many a Garfield, Star Wars, or Hardy Boys book is sought and requested here. Right now the whole family shares one card and it works well for keeping track of all our items. FishPapa, FishBoy11, and I all request items to be put on hold which is so helpful to us.