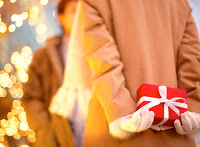 Some fun and simple ideas I found while surfing this past week.
This idea for Cookie Cutter Fudge is a great one! If you have cookie cutters to give away, I think it makes a great package to leave the fudge in the mold. So cute!
Shannon did her homework for the rest of us. Check out her tips for great teacher gift ideas at Rocks in My Dryer.
The December edition of Family Fun has some yummy and beautiful quick breads for gift giving, complete with fancy wrappings. Check them out here.
Love, love, love this idea for Sandbox in a Box. I've seen this done with real play sand, measuring utensils, larger toys. The larger toys would be better than marbles if you're giving this to very young children.
And don't forget to sign up for Ebates if you're going to do online shopping. You get cash back even if you buy gift cards. Big stores are participating, including Target, Walmart, and Old Navy. And shipping is generally free on gift cards!