Links of Love: I Can Do That!
We are a participant in the Amazon Services LLC Associates Program, an affiliate advertising program designed to provide a means for us to earn fees by linking to Amazon.com and affiliated sites. We participate in other affiliate programs as well. For more details, please see our disclosure policy.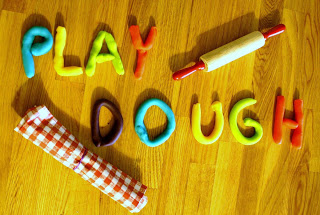 Can I just say that my sister Janel is brilliant? She hides her light under a bushel, truly. She didn't even tell me about her blog's new feature, Make-It Monday where she's sharing ideas for homemade gifts. You will love her ideas about making a Playdough Kit. So clever and inexpensive. I never thought of buying bulk vinyl tablecloth from Walmart and cutting it down to size for individual placements. Genius!
A few other "Hey! That's cool! I can do that!"
Thinking of using fresh squash or pumpkin in recipes this year instead of canned? Amy at Simply Sugar and Gluten Free has a great tutorial on how to roast a pumpkin (and the seeds) in the oven. Yummy for pumpkin pies!
Amy's Finer Things has very cute Turkey treats to make for Thanksgiving or holiday parties at school.
Small Notebook's Walnut Ornaments would make really cute place cards at your holiday table.
Lynn has made me think that I might actually be able to make homemade yogurt.
I appreciate Katie's efforts to explore more whole ingredients for cooking. She clued me into coconut oil. I'm looking forward to learning more about it and trying it out.
While you've still got fallen leaves on the ground, now's a great time to start a compost bin. The Happy Housewife offers a great tutorial on how to do it yourself. And I'm thinking it would only cost about ten bucks at Walmart.
Stumbled on a good read lately? Tell us about it in the comments.