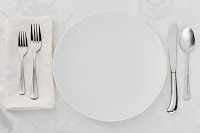 Long ago, I adopted the "food and clothing" philosophy –that if everyone got clean underwear and a full belly, it's okay to let other things slide. And since, food is SO much more fun than matching socks, I thought I'd share some meal planning helps on the web.
Hillbilly Housewife – The name is kind of funny, but there are some interesting money saving tips there, including an Emergency $40 menu plan.
Saving Dinner – I recently signed up for a free menu from the Dinner Diva's weekly mailings. There are several menu plans to choose from: regular, body clutter, heart healthy, and low carb. A free sneak-peek gets you one of each. They come with recipes and shopping lists. As long as you like what's on the menu, you're set!
USDA Food Costs – Here are government reports about how much it should cost to feed your family, updated monthly to account for inflation. It is also sorted according to how thrifty or liberal you want to be in your spending. This gives you a great target to shoot for. Savvy couponers will find that they can beat the government's costs.