Links of Love: Things That Made Me Go, "Hmmm…"
We are a participant in the Amazon Services LLC Associates Program, an affiliate advertising program designed to provide a means for us to earn fees by linking to Amazon.com and affiliated sites. We participate in other affiliate programs as well. For more details, please see our disclosure policy.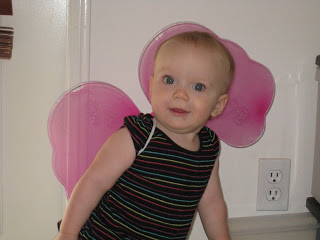 My girl is walking! Can you believe it. Just shy of 14 months this week she took her first "real" steps. And boy is she proud of herself! She has also grown tall enough to pull things down from counters and tables. It's only a matter of days before her brothers have her swinging from the rafters. Technically she is probably no longer a baby, but I'm thinking she just might be my "FishBaby" forever. Ain't she cute with her fairy wings?
In other news….
Appreciated The Happy Housewife's reflections on raising content children. I'm blessed to say that for the most part mine are pretty able to roll with the punches. But, we've had a little malcontent lately and so Happy's gentle reminders to guard my own heart as well as theirs are well-taken.
I was inspired by Amy's challenge to herself to dejunk her home this month. Even though we've moved and got a fresh start, in the craziness that is "moving with six young children," we packed up a lot of stuff that we don't need. I'd love to say three carloads left my house. Maybe I can if I keep to my own challenge this month.
So you know I'm a "carpe diem" kind of person. I'm always spouting off to you — and to myself — to drink today's cup of goodness dry. So, it would be no surprise to you that Ree's post here tugged at my heart. My mom had a framed saying on her kitchen wall for a long time that said, "Love each other with a little added tenderness for the days of life are short." Ain't that the truth? Find the good in today, hug your kids and your hubby tight, be thankful for what you got.
What's made you stop and go, "hmmm," this week? Read anything inspiring? Share your story or link.