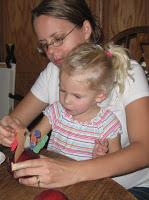 Every kid knows that the time before their turkey's cooked can drag on for hours. So, short of stuffing your kids at the relish tray, find something to keep them occupied and entertained before and after the big feast. You may find that the adults enjoy the activities as much as the children do.
Last year my sister (pictured) orchestrated a family-wide turkey craft. My niece was joined by G'pa and her aunt and uncles as she and Mama decorated apples with gum drops to resemble turkeys. You can find the directions here.
Check out this huge collection of turkey crafts at Family Fun.
Martha's catalog of Thanksgiving Crafts is filled with fun activities for all ages.
Choose a game from Amazing Moms' list of Thanksgiving Games.
10 Ways to Amuse Your Kids While the Turkey is Cooking from Cincinnati Family includes lots of great options.