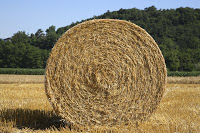 Just a few things that I appreciated this past week or so. Enjoy!
I liked this idea for a drawstring bag from Small Notebook. I'm thinking of kid-ifying it by sewing them out of themed fabric. I could make one for each kid and fill it with love notes, candies, and a few gift cards. Yes, similar to stocking stuffers, but the rip into those pretty quickly.
Thankfully, most of my kids have hard teeth like mine and aren't susceptible to too many cavities. However, I am woefully aware of what inadequate brushing can do. Check out this post about Brushing Your Baby's Teeth for some helpful suggestions.
My cyber-friend JessieLeigh maintains a great blog to support and encourage parents of premature infants — and to educate the rest of us. I've learned a lot, in particular this little tidbit about how you can help hospitalized children. I was struck by the fact that pulltabs from pop cans are worth something! Go here for more details on how to support the Ronald McDonald House charities.
Be inspired by families who adopt children with Down Syndrome here. I love this demonstration of love.
Lastly, I really appreciated the wisdom in Shannon's post, What We Remember; gave me pause (again) to think through what memories I'm leaving my kids with.
No wants a crabby mom.