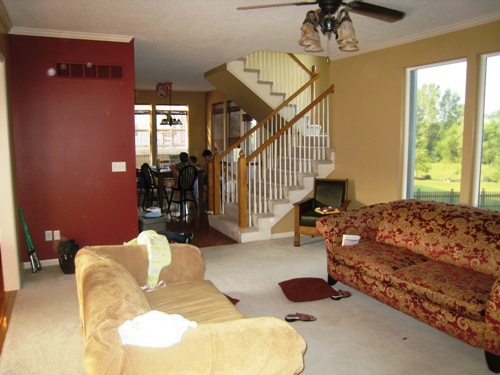 Since we are a homeschooling family, we spend a good deal of time at home. Sure, there's a fair amount of running around. But, since I'm not running a daily carpool to and from school, our home boasts a rather "lived in" look. Because, well, we live here.
And that's good. I think if given the choice between our messy clutter and a cold, austere, picture perfect home, I would probably choose our little pad.
Maybe.
OK, yes, I'd choose home.
"Lived in" is good. It shows that we're real people, that we are active, that there are young, mostly-happy, little people living here.
All the same, I like home to be a nice place to come back to when I do go running around elsewhere. And frankly, frumpy house makes for grumpy mom. I know that I can't have the picture perfect home or designer decor. I probably couldn't pull it off even if I lived alone. But, I do like to feel like we have little bits of beauty around us.
Here are some little ways that we can give a boost to the roost: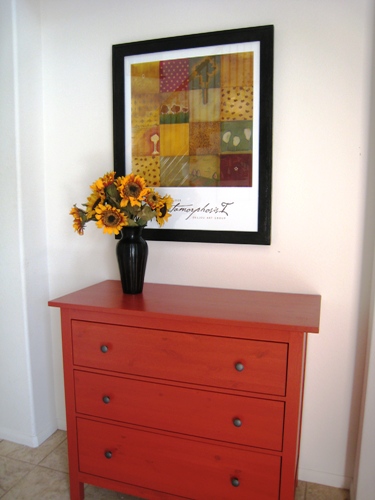 1. Tidy up and declutter.
We can often kid ourselves that we "need" a new bedspread or a new set of dishes. But, really, a good cleaning can make a huge difference. I've found that when I put away the clutter, do a little dejunking, and give things a general wiping down, our house seems so much more inviting.
It really doesn't take much time to clear flat surfaces or vacuum. It's the mental energy involved. I haven't mastered it, but I'm convinced that keeping things as clutter-free as possible gives both me and my family a boost.

2. Paint a wall or hang pictures.
Adding color or frames photos or art can add interest to a wall and make a huge difference to the overall appearance of the home. It doesn't take much. Painting one wall or buying some easy picture hangers cost very little in time or money, especially if you check the clearance section.
I love how Meredith turned a disaster canvas into a wonderful family work of art. What a big difference a little thing can do!
3. Add a few more lights.
Good lighting in a room is so important, especially as the days begin to shorten. Changing your light bulbs (to a different style or brightness) can make a difference to the feel and mood of a room. Adding a few more lamps and candles can help, too.

4. Put things in their places.
You know the drill, A place for everything and everything in its place. This is so hard!
OK, maybe it's easy for some folk, but with our family, it's a daily challenge. But, the kids are more likely to do their chores well if they know where things go and it. I'm finding that hooks and containers really help to corral things and make it easier for folks to put things away. This is the peg wall we built in our last house. I'm ready for hubs to make me some more in this house!

5. Touch up the paint on doors and trim.
Washing your walls can definitely improve the look. But, paint, particularly on the doors and trim can make a big difference, particularly in the spots that are scraped and chipped. With the right paint, you can create a clean, refreshed look without a ton of work

Win some trim and door paint from Glidden
Glidden has put out a paint that promises not to drip or leave brush marks, resulting in a clean, smooth finish. Glidden Trim and Door Paint is available in 8 different colors and is good on both interior and exterior surfaces. Know that bright red door you've always wanted? You can pull it off pretty quickly with this stuff.
The Thick Gel Formula Produces:
No drips
No brush marks
Extra high-gloss finish
Excellent coverage and durability
This weekend three LifeasMOM readers will each win a $20 gift certificate to the Home Depot to purchase paint for their homes.
To Enter

Leave a comment on this post, telling us the last thing you did to jazz up your home and make it more comfortable for you and your family.
This giveaway will be open until Sunday, October 2, 2011 at 8 pm PST. Winners will be chosen at random and notified via email. Please respond within 48 hours to claim your prize.
This giveaway is now closed. Congrats to the winners: jenmason84@, scrappymom2be@,  qthelesser@
Disclosure: I received compensation for time spent writing and administering this giveaway. All opinions are my own.