Little Ways to Save Money
We are a participant in the Amazon Services LLC Associates Program, an affiliate advertising program designed to provide a means for us to earn fees by linking to Amazon.com and affiliated sites. We participate in other affiliate programs as well. For more details, please see our disclosure policy.
Little ways can save you big money eventually.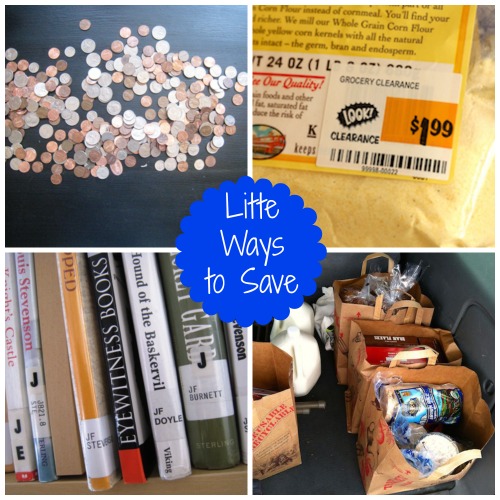 I was chatting with a friend yesterday (also a mom of four boys) about grocery prices and what it takes to feed four TEENAGE BOYS. I'm almost there, and I'm feeling it. (I don't know that boys always eat more than girls, but I think they are much more enthusiastic about their meals — and more vocal when there's no meat or we're out of milk. At least that's what it looks like at our house.)
My friend commented that the convenience items, necessary for a busy season in her life, are what are killing the budget. It's so true. Saving money takes work and time. And if you're not able to DIY, it can cost you a pretty penny.
Years ago when we found ourselves in mega-debt, I had more time than money. That meant I had oodles of time to increase our income in littles ways: hawk our belongings on eBay, host a garage sale; and reduce expenses: clip coupons, shop the deals at TEN stores every week, and otherwise, do a multitude of small things that added up to big savings.
Saving money can be worth your time.
While I spent a ton of time — at least 4 to 6 hours every week clipping and organizing coupons, planning my shopping trips, and running around to the stores — the numbers crunched. It was work, but it was worth the time, since it helped us stay under budget and pay off our debts.
It helped that I lived in the suburbs where all ten of my stores were within a 2-mile radius of my home. The numbers might not have penciled out if I had lived somewhere else.
Today I don't practice the same type of shopping. Due to different priorities for time and healthier ingredients, I shop at half the number of stores and don't clip but a handful of coupons each week. But there are other areas of life where it does make financial sense for me to do some extra work.
Here are some recent examples where spending a little time resulted in financial rewards:
Making a quick dinner of pasta or grilled cheese (even when I'm tired) is cheaper and well worth my time in comparison to spending $25 to $50 on a take-out meal. There are plenty of meals to make even when "there's nothing to eat".
Taking the kids to the library is clearly cheaper than buying books. I know lots of voracious readers who don't have library cards! Make use of the thing your tax dollars have already paid for.
Yesterday I took FishBoy13 shopping for pants. We chose Target over Old Navy for its better pricing. I had a handful of Target coupons in my purse. I took 60 seconds to scan through them and read them carefully. I had a $10 off a $35 purchase in there! It was a number of different departments, but I hadn't read the coupon carefully enough to understand that it was good for our purchases that day. The extra minute it took to reread the coupon saved me $10.
Reading my receipt saves me money at least 10% of the time. I found out that my son had grabbed the expensive milk ($5/gallon) instead of the store brand. We were able to exchange it and essentially get an extra gallon of milk from the same amount of money. See first paragraph on feeding teenage boys.
Each of these instances took a little time or effort on my part. They took a little concentration and clever thinking. They took a little work. But, they were totally worth the time, especially when I wasn't doing anything more important or lucrative. Ha!
Little drops of water fill a mighty ocean.
Little steps of frugality can make a difference in your bottom line, helping you to stay under budget and fight back debt.
A couple years ago, I wrote a lengthy series on small ways to save on almost everything. Visit these past posts for ideas on where you could be cutting costs more regularly:
What money-saving steps are worth your time and effort?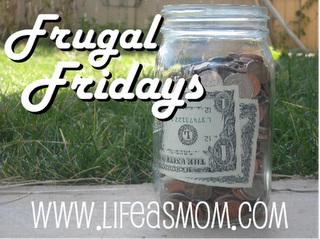 This is Frugal Friday. In an effort to make these weekly financial discussions more interactive, I'm no longer posting a link-up. Feel free to leave a link in the comments. But better yet, chat with us on today's topic.