It's that time to look back on the past year and count your blessings. What good happened that you can rejoice in?

Today's assignment is to write down all the great things that happened in 2014.
We talked at dinner last night about some of the highlights of the year. Many of the kids' responses included outings and adventures. My highlight was this day, though our trip to Europe also ranks very high on the list.
Sure, there are lots of things that we wish we could undo. It's a mother's nature to wish she could unmake that mistake. However, I've found that looking for the good typically spurs us on to more good in the future. So, let's look back.
What happened this past year that makes you happy?
Some simple ways to remember what happened this year:
Flip through scrapbooks or scroll through your photo stream.
Browse your calendar.
Read through your journal. Don't be embarrassed! View it as growth
Grab this printable to help you record your accomplishments and blessings of the year.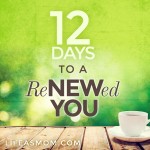 This post is part of a 12-part series, 12 Days to a Renewed You. You can read through the archives here.