Looking to get organized in the new year? Not only do I have a game plan for home organization, but I also have a sweet deal on my household notebook ebook.
Last month I asked you some deep, dark, personal questions. Over a thousand of you responded and shared some personal secrets, including where your struggles lie. Well, at least in the home management realm. Thank you.
Clutter and organization topped the list of challenges we face. I am right there with ya, sister.
While I would like to think that I'm a fairly organized person, I still have messes. I still forget things. Clutter still breeds like rabbits in my home.
I've realized that life happens. That seasons come and go. That sometimes you're on your game — and sometimes not. Although life is subject to change, however, there are some things that we can do to be ready to face the challenges of "life as Mom" with a smile on our faces — and sometimes even a spring in our steps.
In the coming weeks and months, I'll be sharing a series on home organization that may be different from what you've encountered before. At the same time, it's my hope that it will encourage you, equip you, and help you know that you are not alone in the campaign against clutter.
---
We're going on "zone defense," people, and we're going to work a game plan to organize our homes, tackle clutter — and go home with the SuperBowl ring.
---
Or something like that.
Time to Get in Shape
In the meantime, I encourage you to get your household notebooks ready!
We're going to be adding different tasks to the to do lists, crossing them off, and moving about our homes and home life, until we've got it under control.
Or at least in a position where it's not controlling us.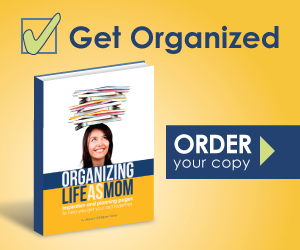 To help you get your days organized, I recommend my ebook, Organizing Life as MOM.
Through tomorrow night you can use the coupon code NEWYOU to get $2 off.
(The coupon code is good on any purchase of $8 or more in the Life as MOM estore, including my other ebook, Summer Survival Guide. There are also calendar packs and specialty add-ons for bloggers and homeschoolers. The coupon code will expire tomorrow, January 8, at 8 pm PST. So, use it or lose it.)
Wondering how Organizing Life as MOM could work for you? Watch this video:
or read these posts:
How to Make a Personal Planner that Rocks
Make a Household Notebook
Making a Household Notebook Work for You
Using Planner Pages to Teach Your Children Independence
How to Create a Homeschool Binder
How a Household Notebook Helps Our School
Planning for Peaceful Days — All the Time
and a review at the Old Schoolhouse Magazine
Ready? Set. Break!