I'm wondering if Peter Pan's story and the desire to stay young is more for the parents wishing their children to stop growing than it is about kids not wanting to grow up.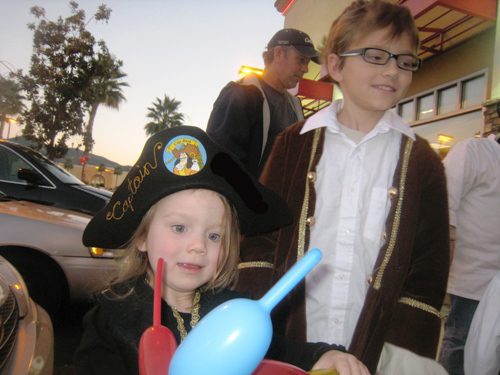 One of the things that I've learned after 15+ years of parenting is that kids love it when you embrace life from their perspective. Whether it is agreeing with my teenager over some stinky rule or situation or getting down on the floor to play with my four year old, I know that my children welcome me into their world.
Especially if I'm going to play — or at least enter on their terms.
Play is good. And we all need more of that. We need to laugh with our peeps and not take things quite so seriously. Well, at least I do. I can get all too preoccupied in the busyness of life.
And the time, well, it's going too quickly.
Light for the Lost Boy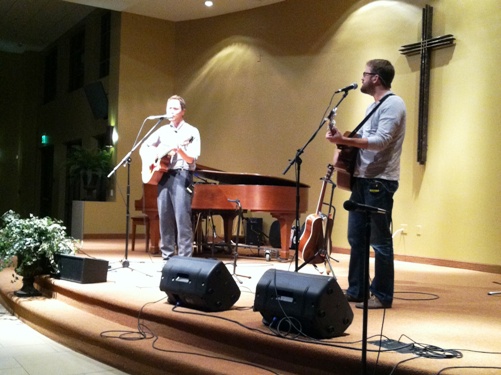 As you know already, one of my favorite authors, singers and songwriters is Andrew Peterson. This past week our family had the chance to see him in concert. It was great fun. And how nice that everyone but the four-year old paid attention and enjoyed it.
(She, on the other hand, was a wild jumping monkey. Thank goodness it was a concert so you didn't really have to sit still!)
Andrew's last album, Light for the Lost Boy, has quickly become one of our favorites. He played a few songs from that album on Wednesday. It was really interesting to hear Andrew talk about how the album came about and tell the stories behind the songs.
What was even more fascinating was to have my kids ask questions about those stories on the way home. See? Paying attention and enjoying it!
For instance, the song Day by Day tells the story of Andrew and his wife visiting Kensington Gardens on a European trip. Inside the gardens is a Peter Pan park. Adults are not allowed. You must be accompanied by a child.
The kids wanted to know about that. FishChick6 was particularly disappointed, as was Andrew, that he wasn't admitted. So, on the way home, we discussed the story of Peter Pan and how he doesn't want to grow up. I've never read the book, but we've watched the Disney film a few times.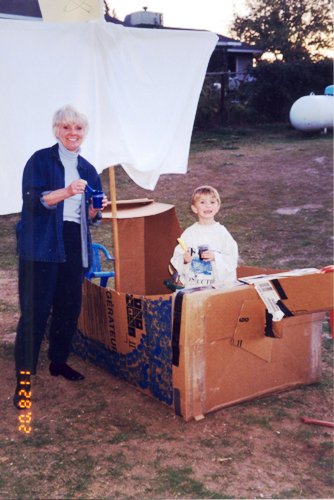 Peter doesn't want to grow up, so he goes off to Neverland so he won't have to.
As any wise parent who's survived junior high will say, we don't want to go back. In retrospect, it's not all it's cracked up to be!
But, there is something magical about being a child. That's the beauty of Peter Pan: to savor the joys of childhood and not be too willing for them to pass.
While I was in a great hurry to grow up myself, I am in no hurry for my children to. They can stay young forever. I'm good with that. And after listening to Day by Day a few times, I'm wondering if the message behind Peter Pan is more for the adults than it is for the children.
What parts of my kids' childhoods am I missing out on? How can I enter their world and make memories on their terms? How can I be young with them, at least in spirit? I think that's the true take-away from Peter Pan, and the one that Wendy's father sort of understands at the end of the film. He remembers Peter Pan and the joy of imagination!
This past week Disney re-released Peter Pan, this time on Blu-ray and DVD. It's an exceptional movie, made even better thanks to modern technology. Along with the movie's release, Disney has also produced a number of extension resources to help families make Peter memories together.
This was one of my favorites:
The handouts include instructions for building a fort together, recipes, and directions and artwork to make a shadow box to reenact the Peter Pan story.
What better way to hold onto our kid's childhood — at least for a day — than to play and pretend together? If you get the chance to watch the movie also, so much the better.
There is plenty of stuff to do in a given day, but playing with our kids is a blessing that will quickly fade.
How do YOU savor the moments of your children's youth?
Disclosure: I received a review copy of Peter Pan. However, I have not been compensated to write this post. Neither Andrew Peterson nor Peter Pan know me from Adam. If you make a purchase through the Amazon links in this post, I will receive a small portion of the sale.