Love Letters
We are a participant in the Amazon Services LLC Associates Program, an affiliate advertising program designed to provide a means for us to earn fees by linking to Amazon.com and affiliated sites. We participate in other affiliate programs as well. For more details, please see our disclosure policy.
A box of love letters in the garage holds many memories and the start of our marriage.
This post is sponsored by Hallmark.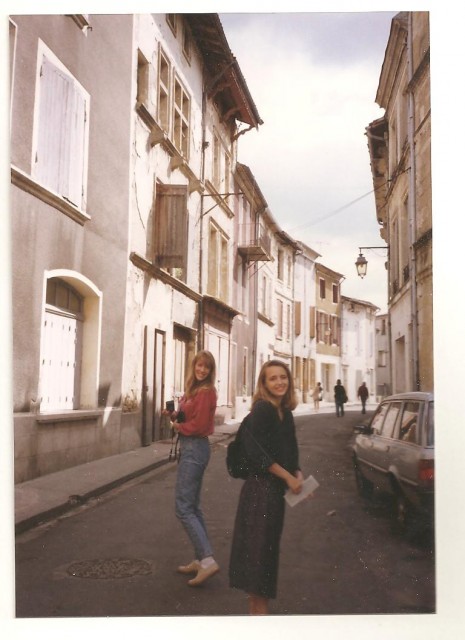 Twenty-two years ago today I was wandering the streets of Paris with my friend Sarah and some new girls we'd met on the plane overseas. I was, as my French mom so often introduced me, une jeune fille americaine. I was uber-optimistic, totally clueless, and much naive about the world. I had book knowledge, but I had a long way to go in street smarts. Ha! In many ways I still do.
About six months before I left, I met the man I would marry. I thought so at the time, and it's been confirmed this past twenty years and six kids later. Fish was nine years my senior and a huge encouragement to my jetting off to France for a year. Unlike the boyfriends of my peers, he knew that if I stayed home for him I would always regret it and wonder.
I've always been incredibly thankful for his wisdom. This was early evidence of it.
That ten months (it wasn't quite a year) was hard in many ways. I'd never really been away from my family. I had a boyfriend with whom I was totally smitten. And my French skills were abominable. Today, as I research our family's European Vacation, I shake my head in wonder about how many details I missed because of the language barrier. If only we'd had the internet back then….
My college days were before widespread email or internet use. Computer geeks knew what they were, but the rest of us, we used good old fashioned pen and paper.
And for that, I am extremely thankful. In our garage is a banker's box full of the "love letters" we wrote to each other over that ten month time period.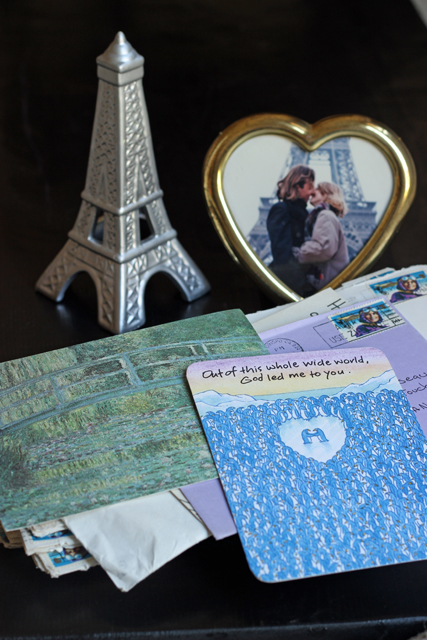 This is just an itty-bitty part of that stack. We gave those mailmen a workout, I tell ya. The box is chock full of cards and letters that we sent to each other, without typewriters, computers, email, or text. It's a tangible way to enjoy the memories of that season. If we had texted or emailed during that year's time, I doubt that I would have this box of memories. I have rarely printed an email in my life.
We knew then that we wanted to get married. Now we have sappy, handwritten evidence of it! These letters and cards are in some way a piece of history to hand down to our kids and grandkids someday. They are written in our own handwriting. They tell the story of day-to-day life in the US as well as new discoveries made by a young American girl in France.
I don't know that we would be married if we hadn't had this international exchange of letters. It kept us in each other's minds. It worked out our relationship. It helped us know one another's hopes and dreams without being overly self-conscious to speak them aloud.
I can't say that there's one specific card that stands out over the others, but the collection is dear to me. It shows my husband's thoughtfulness that has stood the test of time. Oh, I don't get cards that often anymore. But, he shows me in lots of little ways that he thinks of me, that he values me, that he is happy for our past as well as our future together.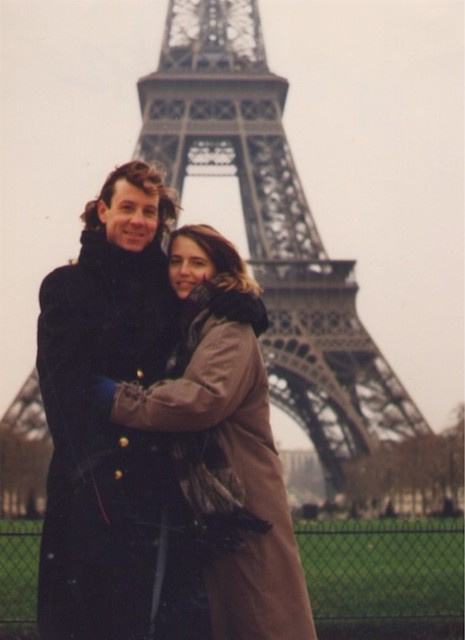 This is us in December 1992. Fish visited me while I was a student, pausing our letter exchanges for real life. We returned to Paris in May 1994 for our honeymoon.
We thought then that we would visit France on a yearly basis. Instead we had babies, dealt with money issues, and worked out life together, for better and for worse. We're not done yet. Well, we're probably done with the babies part. But, we are still working out life and money, for better and for worse.
Last night we sat at the table with French maps, notebooks, and iPads. My groom of 20 years now wears reading glasses. He looks so distinguished! And wow! How did we get here? It reminds me of the Browning quote:
Grow old along with me! The best is yet to be.
As we plan our European vacation with all six kids in tow, we're retracing our steps of that first trip so long ago. We're enjoying the memories — and looking forward to making new ones with our children.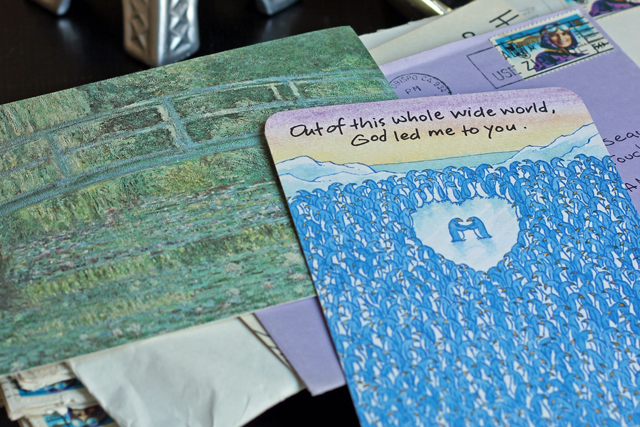 Obviously, the memories of giving and getting cards are rewards in themselves. But did you know that Hallmark will reward you as well?
For every five Hallmark cards you buy – whether at a Hallmark Gold Crown store or the more than 40,000 grocery, drugstores and supercenters where Hallmark cards are sold – Hallmark Card Rewards lets you earn gift cards, discounts, dollars off, and more from rewards partners that can help you enjoy more together time or even a little "me" time. Please visit the website  for more details about the program and the Hallmark Card Rewards mobile app.
This program is a great way to live the high life just a little bit. Not only are you building relationships by sending cards, but you also get financial rewards for doing so.

Disclosure: I have been compensated for my time spent writing. All opinions are my own.