Love Your Life: Remember you are not alone.
We are a participant in the Amazon Services LLC Associates Program, an affiliate advertising program designed to provide a means for us to earn fees by linking to Amazon.com and affiliated sites. We participate in other affiliate programs as well. For more details, please see our disclosure policy.
This is part four of a four-part series about things that I think can help you love your life as MOM a little bit more. For Part 1, go here. Part 2 is here. Part 3 is here.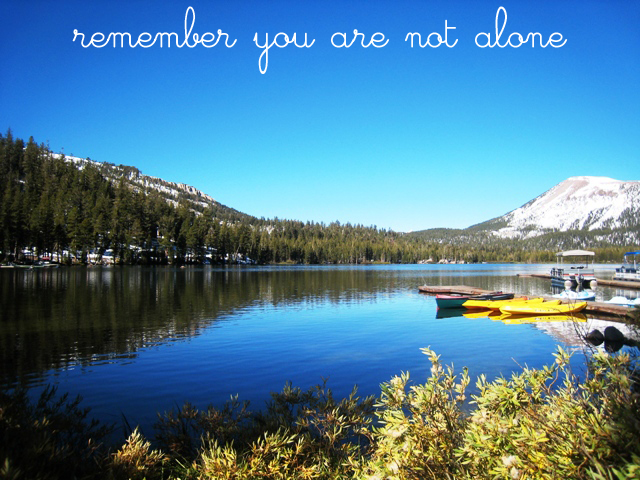 Hebrews 4 says, "For we do not have a high priest who is unable to empathize with our weaknesses, but we have one who has been tempted in every way, just as we are—yet he did not sin. Let us then approach God's throne of grace with confidence, so that we may receive mercy and find grace to help us in our time of need. — Hebrews 4:15-16
No matter what challenges you're facing, you need to know that you are not alone. Because you aren't. None of us has this parenting gig down. And I'll hazard a guess that as stellar as you are in some things, other things probably don't go down with textbook perfection.
(Mine don't.)
Hard things will come. I used to think that the worse thing that could happen to me was that I'd have a miscarriage. Then I had three in 11 months. It was horrible. But, God did not allow that to break me. My marriage grew stronger. And he gave us three more babies in the following 3 1/2 years. Now that's what I call restoring what the locusts have eaten!
Harder things have come down the pike: cancer, death of a parent, debt, unemployment, taking my baby to Children's Hospital in a helicopter. These were hard things.
And then there comes a hard day where a lot of silly, little things pile up, and it feels like the world is going to end.
But it doesn't.
God is with us: in the hard, in the easy, in the silly, in the serious. He is there, and He doesn't plan to go anywhere.
You are not alone.
So, what do we do? We take a deep breath, we trust that God has a plan for even our failures and shortcomings. We turn to Christ, who truly does know what it to be tempted, and we do the next thing that He's called us to do.
God has drawn your boundary lines in beautiful places. They are different than mine or the girl next door. They are yours. And they are beautiful.
Loving your family and glorifying God – these are the end goals. You can do them. You can enjoy the process.
You can keep a smile on your face, thanks to Him who is able to do all things abundantly well.
Blessings to you this week!