Lunchtime's been on my mind recently. I realized last week that between hot breakfasts and home cooked lunches every day, I was spending 2-3 hours daily in the kitchen. Umm, excuse me, but no. This is not conducive to good learning or happy mamas.
How did I get here?
Well, hubs and I chatted, and we realized that in my efforts to save money by cooking so many meals from scratch, I was paying for it in time and energy. While I don't want to throw money away, time is a non-renewable resource. So, I need to play this game a little more wisely. We came to the conclusion that I needed to simplify. It's okay to have "serve yourself" breakfasts like instant oatmeal, boxed cereal, and bagels on the days when baking muffins or frying pancakes might make things a little too crazy for comfort. Likewise, we decided that it was better to make easy, brown bag kind of lunches. I had considered this a few months ago, but somehow eating leftovers or cooking a meal at lunchtime seemed to be a more frugal venture.
I'm pleased to report that the Good Old Fashioned PB and J has served us well this week. I made 18 pints of jam last summer and stocked up on a peanut butter sale a few months ago. So, sandwiches have been a quick and easy lunch. In fact, I've made the kids' lunches in the morning when I make FishPapa's.
Everybody knows how to make a PB and J, I'm sure. However, I wonder if you know my trick. One of these kids is not like the other. Come on, can you tell which one?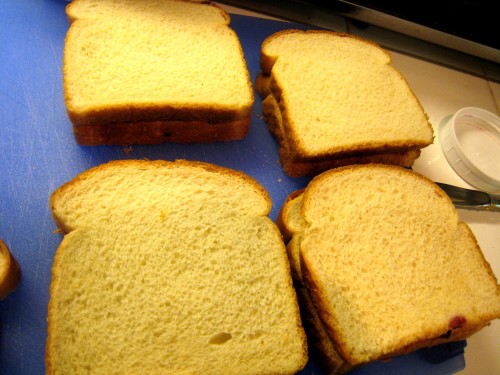 One of these sandwiches is made with the heel of the bread. But, most people — my children included — would not be able to tell. And since peanut butter and jelly are such sticky fillings, this heel of a sandwich has always flown under the radar. And we all know that the heel has all the vitamins, right? It's true.
My mom said so.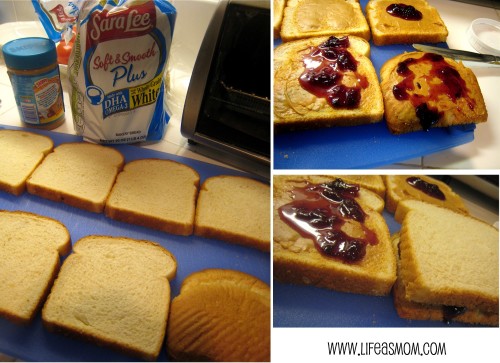 While I love my bread machine and make my own bread several times per week, it's nice to have a backup plan. Thankfully, there are some good, healthy, and affordable options out there that I can throw into the cart and buy myself some time.
Sara Lee recently sent us a few loaves of their new Soft & Smooth® Plus Made with DHA Omega-3 bread. The bread tastes as good as their standard sandwich bread, but has all sorts of extra nutrition thrown in. I consider it a nice alternative to the homebaked bread that would be my first choice.
This week five participants in URS (either through comment or link) will win two loaves of this same new Soft & Smooth® Plus Made with DHA Omega-3 bread. Entries will be accepted until Sunday night at 8 pm PST.
What do YOU like to make for lunch?
1. Post your recipe on your blog. Please mention www.LifeasMOM.com in your post. Then, come back here to add your link to Mr. Linky below. (Instructions for Mr. Linky are available.)
OR
2. If you don't have a blog, simply tell us about your recipe in the comments section.
Powered by… Mister Linky's Magical Widgets.
Disclosure: We received two sample loaves of bread in order to try the product. I was not compensated in any other way. My opinions are my own.