Maintain Your Personal Space & Your Clothes Closet (Zone Defense)
As an Amazon Associate I earn from qualifying purchases. For more details, please see our disclosure policy.
While your home may be in utter chaos around you, we're going to take a non-traditional approach to tackling it. We're going on Zone Defense this year. This week our zone is your closet.
This month we're tackling our first zone out of twelve. But, I'm kinda faking you out a bit. We're gonna get up close and personal.
Rather than work on the hardest zone, which would probably be a great "eat that frog" kind of approach, we're going to tackle your space, your zone.
Here's my rationale: If you feel put together, if you can start the day with a smile on your face and a spring in your step, all the rest will fall into place. Or it just won't bug you that much.
Your Zone
So, we're going to be looking at several aspects of your zone this month:
your clothes closet
your body
your bathroom and bedroom
your place to hang out/relax/recharge
your purse, your calendar, your car
These are important aspects of your well-being as a woman. And so that is where we start. You'll feel better this year. And that's golden, baby.
An added bonus is that if you start with your stuff, then later on when you approach other members of the family regarding some of their possessions and storage methods, you've already set the tone. You will have already purged unwanted stuff and redesigned your space to fit you. You will, Lord willing, feel more rested and put together, and that will be contagious!
Or at least help you answer any protests they give you with a smile on your face!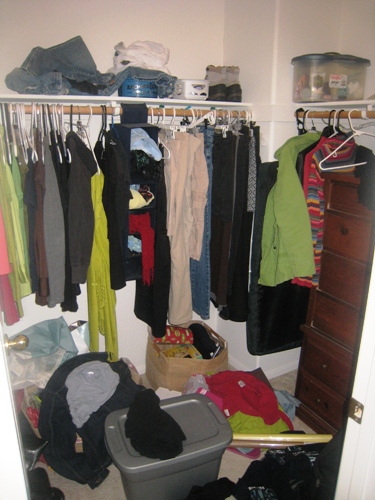 Your Personal Space: Clean out your clothes closet.
They say, "Clothes make the man," or woman, as the case may be. How you feel about yourself is often related to the clothes you wear. And if you feel good about your outward appearance, that will give you confidence to tackle these other projects – and the other stuff of life, too.
So, here we go!
1. Pull out everything in your closet.
Everything. Only the items that you regularly wear are going back in. Anything you don't wear is going to be trashed, repaired, or donated. If you don't wear it, someone else could. And there are plenty of needy people out there.
2. Try them on.
Try on the items that you're not sure about or haven't worn in awhile. If you like what you see, you get to keep it. If not, then send it to the maybe pile. You're allowed a reprieve on five items. You can keep five things that might fit someday or you might change your mind on. Choose wisely, little grasshopper. Too many of us hold onto stuff that really will never come back in style or fit us again.
(Pregnant and nursing moms get a free pass on this one, but ditch the stained pieces and those that are outdated and in disrepair.)

3. Replace the keepers.
Arrange the YES items in rainbow order: white, pink, red, orange, yellow, green, blue, purple, brown, black. This is a great means for locating the blue sweater that you know you just put away. If the clothes are arranged in color order, they will be easier to find.
I find it best to place tops in one section and bottoms in another. Do what you know works for you. If you're not sure what works best for you, try my way first and then make adjustments. 😉
4. Plan the matches.
As you look through your clothes that you love, can wear, and will wear, think about how they work together. Do you have a mix and match wardrobe? Does every item have something to go with it? (Preferably, you'll have more than one thing to coordinate with each garment.)
Matchbook Magazine has a checklist of classic basics that might inspire you for any upgrades you want to make to your wardrobe.

5. How would you improve your organization?
While you're admiring your clean closet, make a note in your notebook of organizing improvements you could make. Would it help to have a sweater organizer hanging for the rack? Would hooks help you organize your scarfs and belts better? Do you have enough hangers for your clothes? Do you need a shoe rack or a behind-the-door organizer?
Think through the "organizing" items that really would help you. Don't just go buy something. Make a list of "this-would-really-help-me-out" items and make plans to go shopping and price these items out. (You can download this Room Organizer Chart to help you.)
6. Clean up!
Vacuum or sweep your closet floor so you know you did a thorough job. Take out the trash and the discards. Deal with them appropriately.
7. Maintain
So, now that your closet is clean and organized, keep it that way! Hang clothes up, keep things off the floor, replace shoes in their holders. If you maintain this space, you won't find yourself in trouble again. And hopefully, if your closet plays by the rules, the other zones will follow suit.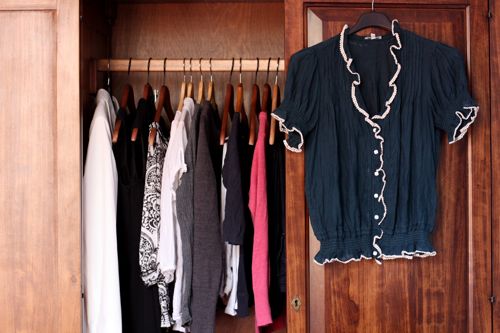 Related links:
Will this zone be easy or hard for you this week?
Get going team and be ready to report back. Can't wait to see the polished you!