Correct me if I'm wrong, but the Holiday Season just begs that you share a cup of good cheer with your fellow man — and whoever happens to come to call. Friends and relatives are out and about. Spontaneity is also in season.
Often, unless you know that company is coming, you might not have the ingredients on hand for drop-in and impromptu guests. Yet, the festive atmosphere calls for a little fun food and drink.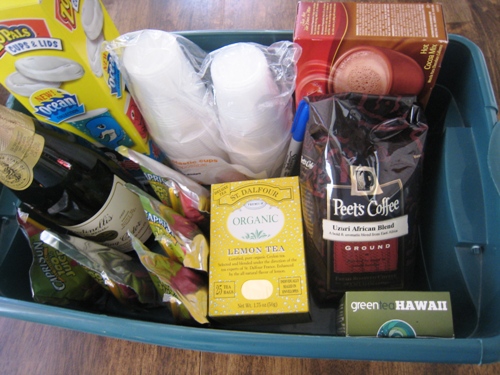 Solve that problem with a beverage basket.
Keep a sturdy basket or box in your pantry or cupboard. Stock it with coffee, teas, cocoa, as well as sparkling juices, bottled waters, and your other preferred drinks. If you pack in a supply of cups and a black marker, you'll have everything you need to offer hospitality to anyone who crosses your threshold.
(I'm keeping my mugs in the cupboard, but you could add those as well if you like.)
What else would YOU stock in a holiday beverage basket?