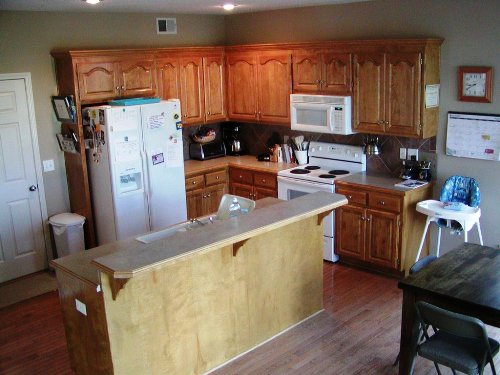 This week is all about getting a good habit going.
One great habit to develop is that of managing your home in a way that best suits you and the season of life you're in.
I am a firm believer in finding a good home managment system that works and then tweaking it to fit my family, my home, and my life. What works for the girl next door may not work for me. But, I can always learn from her.
One thing that I find helps me manage my home a little bit better is a household notebook. Last year I shared how I put mine together. Every few months I update it with a few tweaks, so that it can keep working for us.
It was so exciting to read Shannon's post about her household notebook and how she's tweaking things to fit her life as a mom with a new baby. And to see that my little planning ebook was helping her do it just made my day!
What's a Household Notebook?
A household notebook is basically a command center for all the goings and doings at your house. It can help you keep track of appointments, menu plans, grocery lists, daily checklists — whatever you need to do or to remember, it can help you.
It can be as simple as a binder full of calendars, schedules, and phone directories or as complex as planning sheets and checklists bound together in a spiral notebook.
I put together an ebook (a digital document that you download to your computer) called Organizing Life as MOM that is a how-to manual for putting together a household notebook that fits you and your season of life. It's 125 pages of inspiration and planning pages to help you "get your act together." Many of the pages are customizable so that you can make it fit you!

Lots of choices
There are lots of designs of planning pages available, so I thought I would share a few so you can bop around the web and see what fits you best. You might end up using a little bit from each place.
:: $5 Dinners – Erin has compiled everything for garden planning to pantry staples in her Printable Resource Center.
:: Life Your Way – Mandi is amazing in providing a wealth of printables to use. From Christmas to address book template to take-out restaurant directory, she's got you covered. She even explains how to develop a digital household notebook.
:: Steady Mom – Jamie wrote a book devoted to helping parents provide structure and consistency to their days with children. She provides some organizing resources to that end.
:: Money Saving Mom – Crystal has a variety of charts available to help you manage your household, including cleaning lists and chore charts. Crystal even explains her notebook in a short vlog.
:: Simple Mom – Tsh has an assortment of free downloads, including her daily docket and some helpful checklists.
:: LifeasMOM – Buy the ebook, Organizing Life as MOM. 😉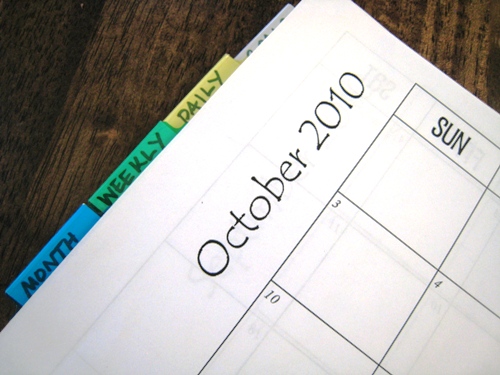 Get Your Act Together in 2011!
To encourage you to set up some kind of system to help you better organize your days, I'm offering a fun little giveaway.
The Challenge: Between now and January 31st, I want you to put some order in your chaos. On the 31st, I'll offer a link-up/comments section for you to share how you are getting more organized this year.

Entries can feature household notebooks or other command centers for your household. (Blog posts will be best since you'll be able to show us pictures of what you create.) Either way, explain how you set up your organizational system and how you plan for it to serve you in the coming year.
Two participants will be randomly chosen and will each receive a $25 gift card to help them get even more organized in the coming year.
Are you up for the challenge?
Do you have a household notebook? How does it help you? What creative tweaks have you tried? Get one ready for the 31st!