Watch how Life as MOM contributor Rena transforms a pair of too large pants into some sweet skinny jeans.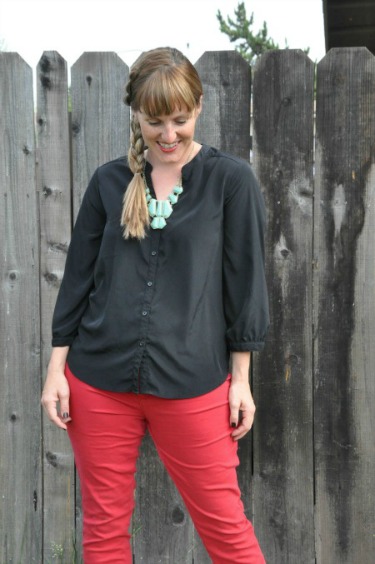 This is not a DIY post. It is more of a documentary about how I took a pair of pants that were too large for me and made them into a pair of chic skinny jeans. I am not an expert at sewing, in fact I would hardly call myself an amateur. But these pants were not that difficult to do, in fact if you can sew a straight line, you can totally do this!
These are the pants I set out to change. They were a size 17. I am a size 12, so they mostly fit me, but were a bit baggy in the legs.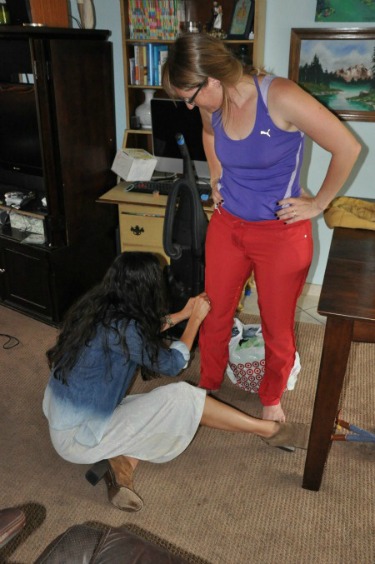 Thankfully I had a friend stop by and she was gracious enough to pin them on me while I wore them inside out. She very lightly pinned them along the line of my leg taking about an inch off of each side. This is so much easier as a two-person project. We even did it with five kids running around, that's how easy it is.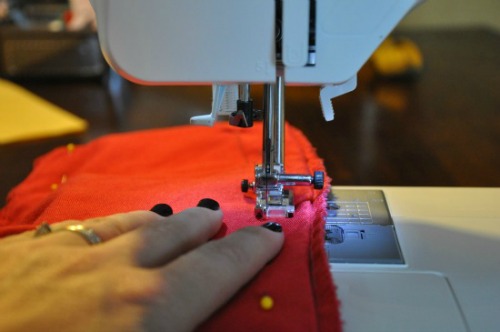 After we pulled the pants off of me, being careful not to displace any pins, I sat down at my trusty Brother sewing machine and sewed straight lines just outside of the pins. Be careful if you're sewing denim because the thickness of the fabric is tough for your needle. In fact, I broke a needle and bent another one.
Make sure to leave room for your heel to get in the pants (remember I said I was an amateur?! Rookie mistake!). We pinned them right to my ankle and then had to bust the stitches open to get my foot through.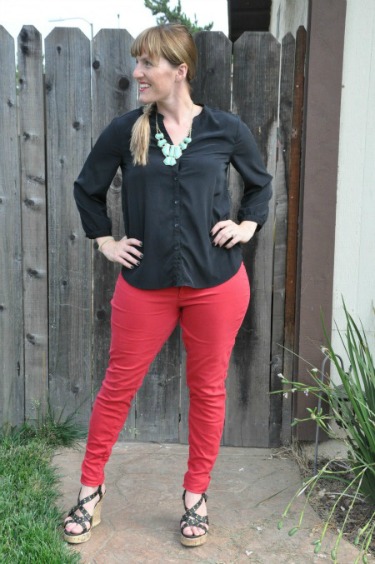 I love how much better they fit me and how this project was completely FREE! I got the pair of pants from a clothing exchange and already had thread and pins.
Do you have any pants that are sitting in your dresser just waiting for a makeover? Give them new life by hemming along the sides!
Tell us about a makeover success story of your own!
Rena, aka "the girl with the smile", is an optimistic style blogger in San Diego. Learning about fashion through trial & error (high school years were pretty awkward), she loves fashion and the ability to create a look and boost self-confidence through clothing. Since Rena lives with all men (husband and two sons), she needed an outlet for her fashion knowledge, so she started the blog The Girl with the Smile.