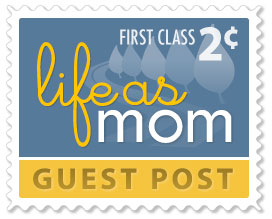 The following is a guest post from Liz of Wonder Woman I'm Not:
As a working mother with older children, the opportunities for family dinners are somewhat limited in our household.
Between the kids' work hours and extracurricular activities we have anywhere from 3 – 4 days per week maximum to eat together. That's assuming that there aren't any surprises like band concerts or business dinners thrown in. To top it off, the only exercise class that I absolutely love and that works for me is on two of those family dinner nights.
Over the years the husband and kids have been very good about helping to put dinner on the table. If I pull something out of the freezer before I leave for work they will pop it in the oven for me. Of course there are the phone calls that start about 4pm asking what time they should put the food on, what else I was planning on serving, what time should the bread go in the oven, etc.
Pretty stressful for me as I'm trying to wrap up the day and most likely have someone in my office. Plus, when I got home at the end of my busy day I still needed to do the finishing touches.
What's a mother to do?
Get creative of course! I thought about what the problems were with getting dinner on the table during the week and came up with four:
If I get home from exercise class at 6pm we had to eat immediately, no time for me to cook.
No one else in the household knew what my dinner plan was. They knew they were to cook meatloaf, but weren't sure what else I wanted to serve with it.
The sides I planned to serve weren't always available. I forgot to buy mashed potatoes, the carrots I planned to use were eaten at the last meal – you get the picture.
The 4pm calls from home asking for direction were stressing me out.
My solution was to create 'a meal in a bag'.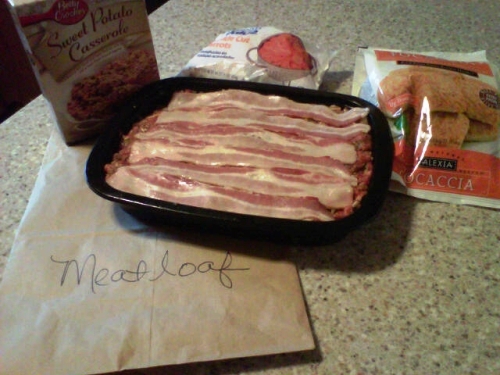 Now, when I do my freezer cooking, I put everything in a grocery bag with detailed directions. Since I tend to cook a lot of the same things, I can have copies of the directions for the main dish and handwrite any other directions for the husband or kids.
A typical bag consists of:

A meat dish
Bread
Frozen vegetable
Potato or rice
In addition we typically serve applesauce and/or salad that would just be thrown on the table at the last minute. If I'm planning on serving a dried good from the pantry (like the rice or boxed potatoes) I've been throwing that in the freezer too, so far without any quality problems.
Because of lack of space, I typically would only do this for the next week or two. However, since we've bought a new chest freezer for the basement I'm be able to go crazy and really stock up!
— Liz writes at Wonder Woman I'm Not. She works full time outside the home as a director of analytics for a paper company. When she's not spending time with her family or working, she enjoys baking, gardening, geneology and reading.
How do YOU problem solve the dinner time scramble?