Make a Thanksgiving Tree
We are a participant in the Amazon Services LLC Associates Program, an affiliate advertising program designed to provide a means for us to earn fees by linking to Amazon.com and affiliated sites. We participate in other affiliate programs as well. For more details, please see our disclosure policy.
Show your thankfulness with this adorable Thanksgiving Tree craft from guest contributor Nancy from Daffodils at Home.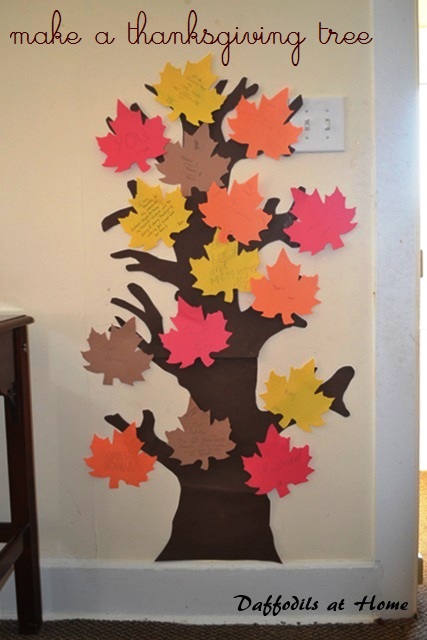 Thanksgiving is right around the corner. Sometimes we have a big crowd and sometimes just our own family. Either way, I always try to have the Thanksgiving tree ready to go!
I started the tradition years ago when my oldest (who is a 9th grader this year) was in first grade. My husband cut the tree shape out of two pieces of brown poster board and we've used the same tree every year since. A few branches have suffered from age, but we just tape them back together. 😉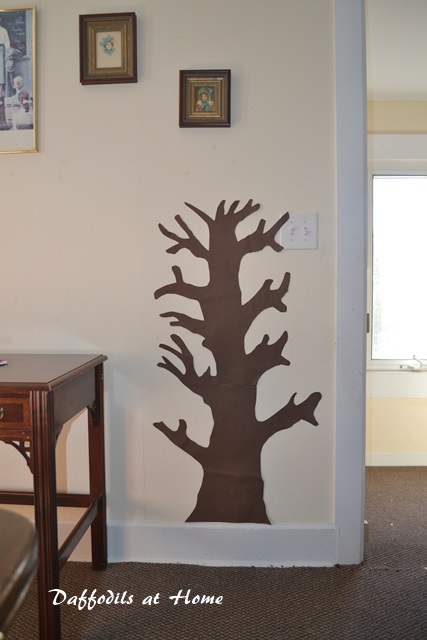 Originally, I used the tree as part of a Thanksgiving unit study the week before Thanksgiving break and had each child write something for which they were thankful on a maple leaf cut out of construction paper each day of the week. That first year I had only 3 kiddos participating (and I think I had to do the writing for them!) so we had 15 leaves on the tree.
As the years passed, I didn't always get the tree hung in time. One year, I didn't hang it until the day before Thanksgiving, and we were planning a big crowd of people. My husband and I stayed up late cutting out maple leaves. We left a pile of them on a table next to the tree and invited our guests to fill out a leaf and hang it on the tree. That became the new tradition!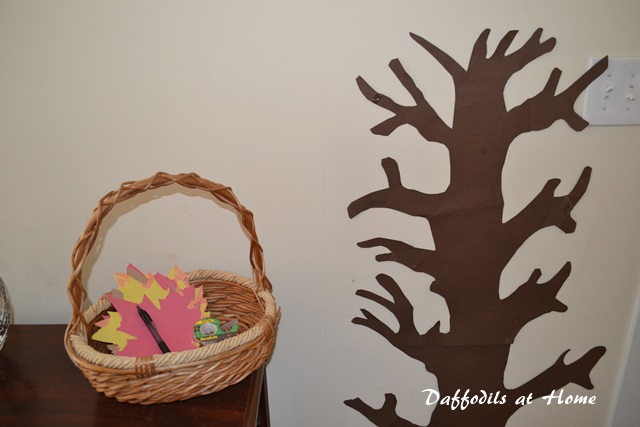 I love seeing what other people write. One year a young man confessed his love to a young lady on one of our leaves. Sometimes people get creative and draw designs on the leaves.
We also love to see what the little tiny kids will say. We write down whatever comes out of their mouths and sometimes it's a riot! Also, if they are able to write their own, we let them write whatever they can.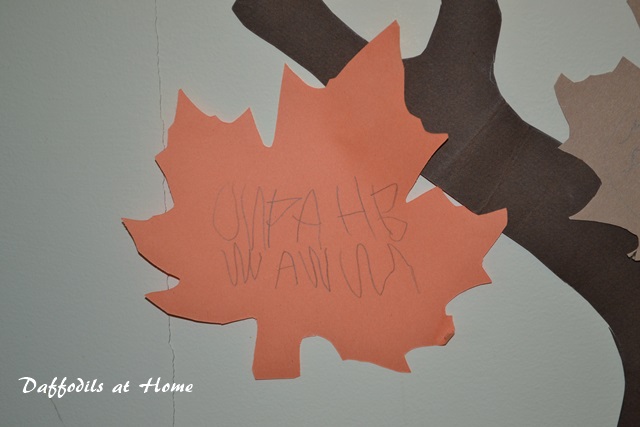 After the Thanksgiving holiday has passed, I take down all the leaves and write the date on the stems. My intention is to someday make a Thanksgiving scrapbook with all the leaves. I think it would be so much fun to look through all the years of leaves each year! Here is a sample of what it might look like. I taped two leaves to the front and two leaves to the back of a piece of ivory card stock and slipped it in a heavy duty sheet protector:
Have a wonderful Thanksgiving everyone and enjoy your traditions — old and new.
What are your special Thanksgiving traditions?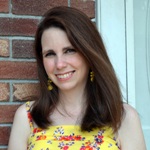 Nancy is a priest's wife and homeschooling mother of six who is moving from New York to Florida in a week!
She blogs about crafts, home decor and furniture makeovers at Daffodils at Home.
Ready to fall for fun?

This post is part of the DIY on a Dime: Falling for Fun series. Check it out for all kinds of budget-friendly, family fun ideas to celebrate one of the most beautiful seasons of the year.