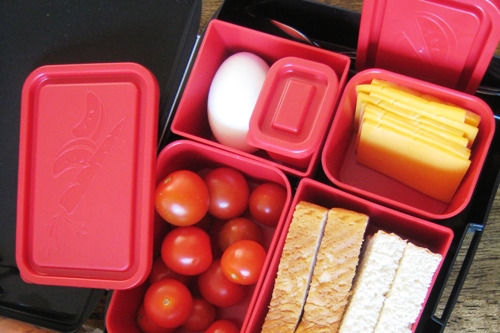 I don't understand why the school year is so busy. Summer was a breeze compared to our daily schedule now. Could be that swim lessons, hockey practice, science class, art co-op, latin class, piano lessons, and hockey games have something to do with it.
As such I've found myself spinning my wheels on more than one occasion, unable to get traction on my to-do lists. I've discovered a few things in the process:
1. There's too much to do. Time to pare down and say no to a few more good things.
2. There's no time for lolly-gagging about. I want to make sure that I'm spending my minutes on the most important things.
3. There are a wealth of shortcuts to be discovered and implemented.
Make Ahead Meals
One of those shortcuts that I've talked about frequently is the idea of make-ahead meals. I think I could be a poster child for the movement, don't you?
Do your meal prep when you have the time and serve it when you don't. That totally works for me. And since I have a whole crew of hobbits who are incessantly hungry, having a plan for the next meal always helps me along.
5 Tips for Quick Make-Ahead Meals

Lay out the non-perishable breakfast stuff before you go to bed at night. Having cereal, bowls, spoons, and cups at the ready helps you get a meal on the table in short order.
Pack lunches the night before. Chill perishables in the fridge.
Make use of convenience items where it will save you the most time and stress.
Put dinner in the crockpot when you wake in the morning.
Prepare several freezer meals to keep at the ready for crazy nights.

Enjoying Sandwich Bread
One of the best things since sliced bread is, well, sliced bread! Seriously, I know how to bake bread, but I love to have a ready supply of sandwich bread. There are some meals, like BBQ pork, that are just tradition to serve on sandwich bread. We did, last week for the Chargers/Chiefs game. Yes, I confess, I ate the potato chips first.
And quite honestly, a sunbutter and jam (or PBJ, if you don't have allergy issues) tastes best on sandwich bread. It just does. No other bread can compare.
Sara Lee goes back to school with two new breads.
Here's some info from Sara Lee about two of their new bakery products:

Sara Lee Iron Kids bread offers a more nutritious white bread option for kids by containing as much fiber and more than four times the calcium as 100% whole wheat bread per two-slice serving. Additionally, Sara Lee Iron Kids bread contains added Vitamin D.
 Sara Lee Thin Style Buns provide whole grain nutrition, with just 100 calories per bun and no high fructose corn syrup, artificial colors or flavors. Sara Lee Thin Style Buns are a delicious yet less-filling way to enjoy your favorite sandwiches.
Win Free Bread and a Bento Box!
This weekend three LifeasMOM readers will each win the following:  TWO coupons (one for Sara Lee Iron Kids bread and one for Sara Lee Thin Style Buns) and ONE Bento Box (similar to the one pictured above).
To Enter:

Leave a comment on this post, telling us about your favorite sandwich.

For extra entries, "like" Sara Lee Bread and LifeasMOM on Facebook, and leave a second comment telling me you did so. While you're there, you can enter the Sara Lee Family Fun Sweepstakes to win free bread AND a $500 gift card.
This giveaway will be open until Sunday, October 9, 2011 at 8 pm PST. Winners will be chosen at random and notified via email. Please respond within 48 hours to claim your prize.
This giveaway is now closed. Congrats to the winners: establishedways@, robjohnsonofwichita@, lucky_duckiesx5@
Disclosure: I received sample product as well as compensation for time spent writing and administering this giveaway. All opinions are my own.