Make Bedtimes Special
We are a participant in the Amazon Services LLC Associates Program, an affiliate advertising program designed to provide a means for us to earn fees by linking to Amazon.com and affiliated sites. We participate in other affiliate programs as well. For more details, please see our disclosure policy.
Make those last waking moments a special time between parents and kids.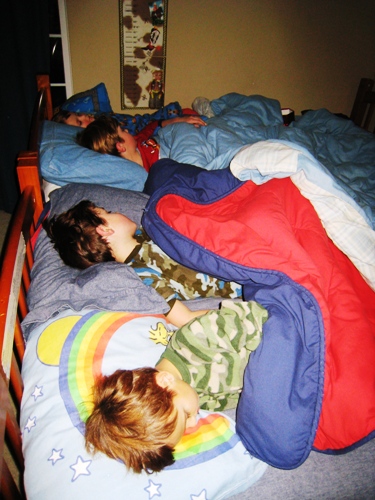 At our house bedtimes have taken shape differently over the years.
In the beginning all our little boys were in one room, until we had four twin beds lined up in rows. I made the rounds to kiss everyone goodnight and talk to him about his day. Sometimes, they pushed two beds together and they could sleep four across.
Today, two beds times three rooms makes for a few more stops on the rounds. I still love to kiss everyone goodnight and chat about the day. It doesn't always happen; my bigguns put themselves to bed, and sometimes the littles fall asleep during movie night — or dinner even. But, I love making those last waking moments special.
Some of the fun things we've done over the years:
Read a family read aloud.
Listen to music or a book on tape.
Sing songs together.
Have Papa play the guitar.
These are wonderful ways to wind down the day and savor those small moments.
Making bedtimes special is a great way to stop and smell the roses.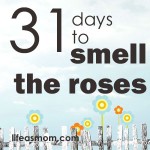 The days are long, but the years are short. I don't want to miss them! For more short and sweet ideas on how to stop and smell the roses, to enjoy the little things in life, check out my 31 Days to Smell the Roses series.
Don't miss a post in this series. Subscribe to 31 Days to Smell the Roses by RSS or email.