Make Christmas Ornaments from Toys
As an Amazon Associate I earn from qualifying purchases. For more details, please see our disclosure policy.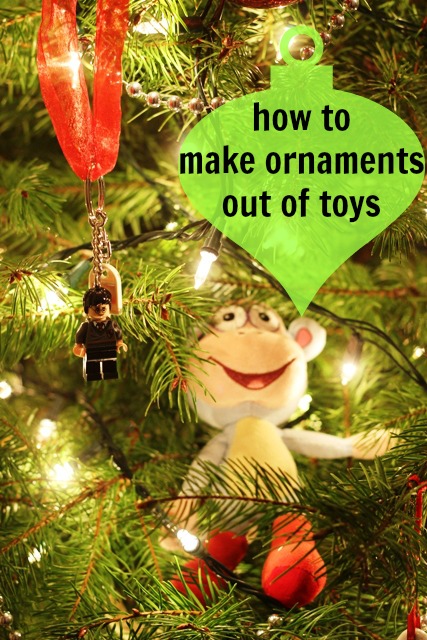 As many families do, we give our kids new Christmas tree ornaments each year. These are designed to be their personal ornaments so that when they leave home someday, they have Christmas-in-a-box to take with them. My mom did this for me and my siblings, too.
One thing that I like to do is choose ornaments that commemorate a milestone or a special interest for the year. It's fascinating to look through their ornament boxes and see a reflection of how they've grown and changed over the years. FishChick5 has quite a few Dora ornaments that she claims she doesn't like anymore.
Yep, that ship has sailed.
There have been times over the years when buying "the perfect ornament" hasn't been possible. Either the budget was too tight, the ornament I imagined non-existent, or both.
Sure, buying ornaments at after-Christmas sales is one option, but I've found others that work better. I can give the ornament as a gift at Christmas and know for positive that I'll actually have that gift in hand. After Christmas sales are pretty unpredictable.
The solution I've come to on more than one occasion is the same as my alternative to expensive cake toppers: 
Toys!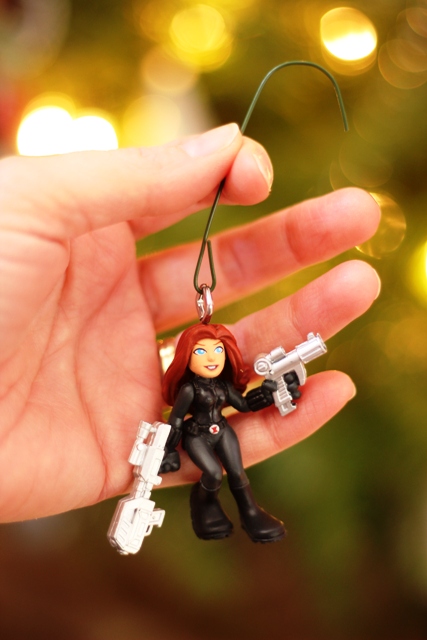 Over the years I've turned to toys to close the gap for us between our wallets and expensive character ornaments. Here are three ways that you can easily do the very same thing.
1. Use action figures.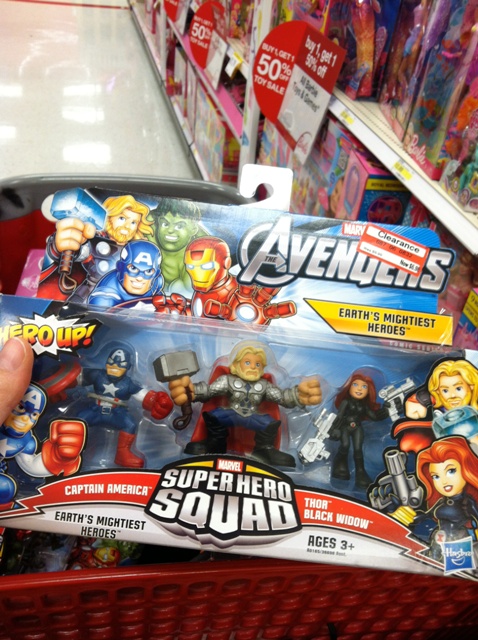 Last Christmas I really wanted to get each of the kids a different Avengers ornament, I had a hard time stomaching the price that the movie studio wanted to charge. Instead on a brain storm at Target I settled on a better solution. I found these Avengers action figures for $6.98 a package. I scoured every shelf in sight and talked to two Target associates to make sure that I walked away with the complete collection.
Why yes, yes, I am a Marvel geek.
I bought all nine action figures for about $21. In addition, I bought a picture hanging kit. When I came home with the loot, FishPapa drilled a small hole in the head of each one and screwed in a small dodah (aka screw eye). The job was done and the kids each had a Marvel ornament for about $2.50 each!
You can do this with any small plastic toy, giving you endless options. I've not tried it with Playmobil or Lego, but I'm seriously considering it.
2. Use keychains.
The year that we read through all the Harry Potter Books as a family, I wanted to get the kids Harry Potter ornaments. Yeah, right! Instead I hunted on the Lego website for inspiration.
Instead of ornaments, I found minifig keychains of four different Harry Potter characters. Yes! I added a ribbon to each one and voila! Instant tree ornament.
Minifig selection changes fairly often, so keep an eye on the clearance section at Lego.com for more options.
3. Use stuffed animals.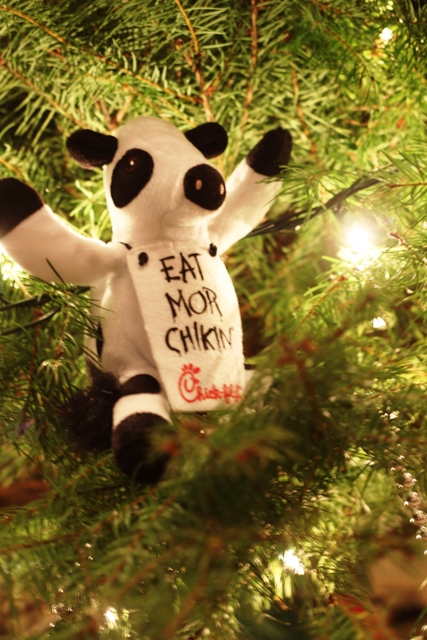 One year the kids and I placed really high in the Chick-Fil-A facebook photo contest. I think we ended up in second or third place. That particular year children weren't allowed to win prizes, but as a gift, Chick-Fil-A sent them each a little stuffed cow.
Rather than pick up six cows fifty-two times each, I stowed them in their Christmas ornament boxes. These serve as a great memento for the kids that they can nestle in the branches of the tree.
You can repeat this technique with all kinds of small stuffed animals or Beanie Babies. That elf that folks put on the shelf? Well, it's actually a replica of a series of small elves that my mom had in the 1960s that were used as decoration. One year my parents' tree was decorated entirely in elves!
If you love it, make it into an ornament!
Just because it isn't sold as a Christmas tree ornament, doesn't mean it can't be one! We've turned all kinds of things into ornaments, like old car keys and small picture frames. If it's special to you or your child, it counts.
Have YOU made some unusual ornaments?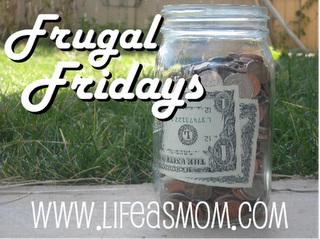 This is Frugal Friday. In an effort to make these weekly financial discussions more interactive, I'm no longer posting a link-up. Feel free to leave a link in the comments. But better yet, chat with us on today's topic.
Disclosure: