I never watch TV. But this week I popped corn and joined my family for a show.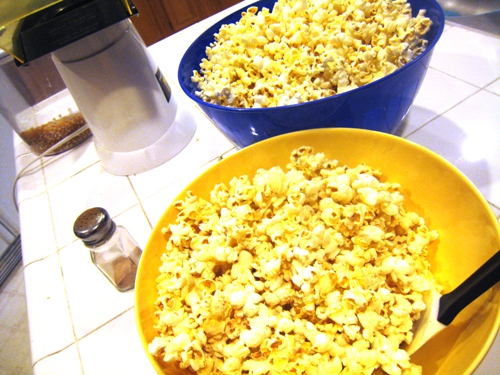 There are few things that we watch on TV. Hockey, football, golf, NASCAR, and a couple cartoons. That sounds like a lot when I say it, but we don't watch any regular "shows", other than the cartoons. I have no clue what the cool sitcoms or dramas are.
I read about them on BooMama, though.
What few viewing options there are in our home, I don't even watch these things normally. I am a reformed TV junkie. With a to do list. I got other things to do!
This week the new season of the family's favorite show started. The kids and hubs had been waiting for it for weeks. I usually work while they're occupied. This time, I decided to take a break from my to do list and watch it with them.
I even popped corn. I had the brain storm to sprinkle on cinnamon sugar over the buttered popcorn. Oh my! That was an awesome brainstorm, if I do say so myself.
We had a little family feast, on a school night, watching TV together. It was only 30 minutes. I ate too much cinnamon popcorn. But, it was good.
Popping corn and watching a show together is a great way to stop and smell the roses.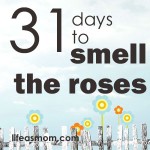 The days are long, but the years are short. I don't want to miss them! For more short and sweet ideas on how to stop and smell the roses, to enjoy the little things in life, check out my 31 Days to Smell the Roses series.
Don't miss a post in this series. Subscribe to 31 Days to Smell the Roses by RSS or email.