Good food doesn't need to be expensive. Today I'm sharing some ideas on how to eat well and spend less.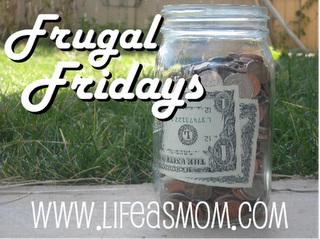 As you know we love food around here. I know, it's just food. But, it's also a hobby of ours. Some people like collecting stamps, I like eating. What can I say?
But, eating (and cooking) could become a very expensive hobby if I wasn't careful. In fact, I know what it is to spend A LOT of money on food. Once upon a time, hubs and I spent more to feed the two of us each month than we spend to feed a family of eight. Go figure.
The funny thing is that we eat just as well if not better today — on a budget.
It is possible, even with the rising costs of food, to enjoy a fun meal and not go broke. This month the Eat Well, Spend Less bloggers are at it again, sharing fun ways with food.

Surviving the February Food Blahs –  Aimee lives in snow country. If anyone can relate to February blahs, it would be she! I loved her post about how to bust out of the blahs and prepare delicious meals, despite the lingering days of winter.
Splurge Yourself Out of a Cooking Rut – Carrie shared some great tips on allowing yourself a few splurges, especially if they get you cooking and eating at home. She also lists some great sources for cooking inspiration if you've lost your mojo.
5 Ways to Make Food Fun For Kids – I think it would be fabulous to be a kid at Katie's house. She offers some great suggestions for making mealtimes a little more exciting for kids.
Having Fun with Natural Food Coloring – In a similar vein, the other Katie shares how to make and use natural food coloring. It doesn't have to be expensive or chemical-laden to be pink!
Give Mealtimes a Special Touch – I shared earlier this week some of the techniques we use to make food "fun" and still not spend too much money. Great meals do not need to be expensive or complicated.
5 Ways to Make Food Prep Fun – I love Tammy's tips for making cooking fun and setting yourself up for success. Truly winning ideas!
Simple Ways to Create Memorable Meals – Shaina offers some suggestions for flavors that will add punch to your food. Definitely worth your salt to check them out.
Fun Recipes for Kids to Make – Mandi rounded up a great selection of recipes that kids can make with you, a great way to put fun back in the kitchen and in your food.
We've discovered that budget meals don't need to be short on taste or inspiration. You can eat well and spend less.
Share a frugal tip!
Today's Frugal Friday. Share a money-saving idea with us. Please keep in mind, if it's not clear how your post can save folks money, the link will be deleted.