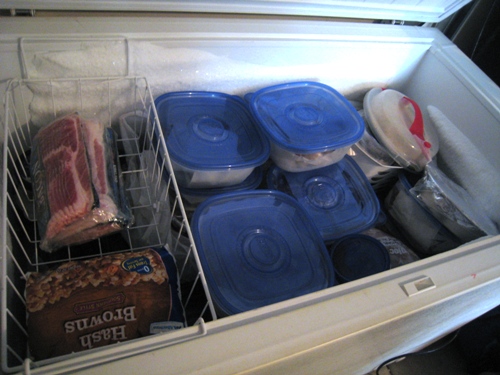 Since I had sent my boys to the freezer with all our Christmas cookies last week, I had no idea how very full it was. Yikes! As it turned out, I really was just going to "top it off" with my December freezer cooking plan — and cram things into every nook and cranny.
I'm thinking that January will be a Freezer/Pantry Challenge month! My cup runneth over….
Make it work for you
Now, before I show you what I did this month, I want to remind you that freezer cooking can work for anyone  — provided that you tweak it to fit your family at your season of life.
When we were heavily in debt, I didn't cook this way. Believe me, I was lucky to get us from week to week. But, whenever I could make a double batch of something, I froze an extra dinner. Eventually I was able to buy myself a week off cooking because I had stockpiled so many meals in the freezer.
There are very simple ways to fill your freezer.
As reader Beth so wisely pointed out on Friday, there are also many ways to approach freezer cooking. Beth said,
It doesn't work for me to plan a whole month of menus but I still freezer cook. Every two months or so I cook up a bunch of dried beans, shredded chicken, ground meat, meatloaves, taco meat/refried beans, spaghetti sauce, and a few other things and freeze it all. Even if I don't have a specific plan for each item it gives me so much freedom over the next eight weeks. I use the crock pot a ton and having that many components frozen makes my life so simple.
Using meal components to buy yourself some time is a great way to make freezer cooking work for you.
Please remember that my family is different than yours. We eat different foods. There are probably more of us than there are of you. I cook in a way that suits our family in our season of life today. But, that could change in a month's time. Or six months' time.
That said, onto this month's freezer cooking….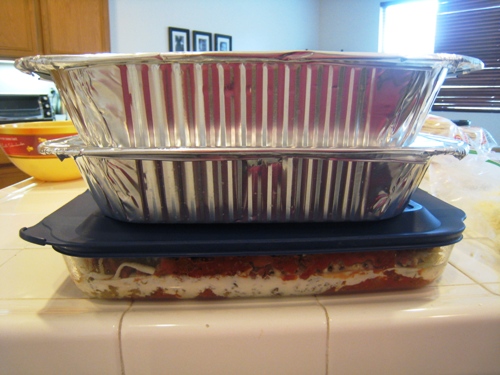 But first can I just say that I love these disposable foil pans with the specially fit lids? They make packaging foods so much easier. Quick, too. They stack so nicely that I don't have to worry about torn aluminum foil.
Alternatively, the Pyrex pan with the plastic lid rocks the freezer as well. I'm hoping to invest in more of those. But, for now the disposables are a nice, economical way for me to make it easy on myself.
OK, now the method to my madness.
This took a few hours each day over about three days.
Process potatoes for freezing.
Get red sauce going in the crockpot.
Package 6 cups of sauce for the freezer for pizza kits.
Use the remaining 9 cups for lasagna
Set chuck roast to cook in the crockpot for the shredded beef.
Brown 3 pounds of meat for lasagnas.
Brown 3 pounds of meat for burritos.
Assemble lasagnas.
Assemble 30 burritos.
Sort and soak beans.
Shred beef.
Soften tortillas for enchiladas.
Assemble enchiladas.
Prepare oatmeal packets.
Make pizza dough.
Set beans to cook in crockpot.
Package pizza kits.
Package beans for the freezer
Put my feet up!

The future of freezer cooking days
I'm really excited to share with you some new features here on LifeasMOM as regards Freezer Cooking Days. Stay tuned in the coming month for some new twists, giveaways, questions, and new ways to think about your kitchen, your freezer, and your meal times.
Share your cooking results!
In the meantime, how did you do this month? Have you done in freezer cooking? If you've posted about it, share your link below. Otherwise, see ya in the comments!

Curious about freezer cooking? Consider purchasing my cookbook, Not Your Mother's Make-Ahead and Freeze Cookbook from Amazon, Barnes and Noble, or your local bookstore. It's chock full with over 200 freezer-friendly recipes, planning pages, shopping lists, cooking plans, and basic and advanced how-to's to making freezer cooking work for any home, family, and lifestyle.