Make Some (Healthier) Turkey Treats for Breakfast
We are a participant in the Amazon Services LLC Associates Program, an affiliate advertising program designed to provide a means for us to earn fees by linking to Amazon.com and affiliated sites. We participate in other affiliate programs as well. For more details, please see our disclosure policy.
Homemade cinnamon rolls take on a new twist when they're shaped as turkeys! Make these with your kids and you'll have a wonderful family tradition.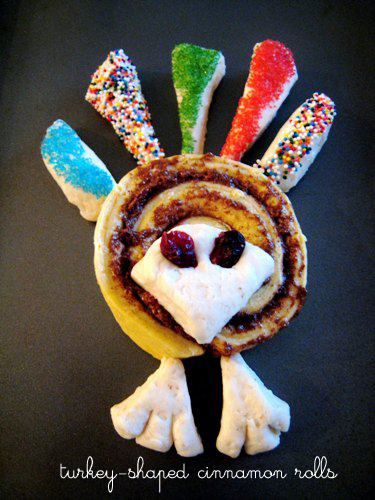 Remember these guys? I created these turkey-shaped cinnamon rolls for the first time four years ago. I was two weeks postpartum after having FishChick4. My father-in-law was visiting and had purchased Costco-size containers of refrigerator biscuits and cinnamon rolls.
Inspiration struck on Thanksgiving morning and these little turkey rolls have become a Thanksgiving morning tradition.
This year I decided to try to make them a little healthier. I'm not against sugar for breakfast. I mean, I am the lady who feeds her kids apple pie on the first day of school.
However, I haven't been clipping coupons for refrigerator rolls these days and I haven't really seen good sales, and I knew that I could make some healthy cinnamon rolls. So I gave healthier turkey shaped cinnamon rolls a go. (You can totally go buy the canned rolls if that's how you roll.)
I came, I saw, I baked that turkey!
Now you can, too. And if you're extra brave, let the kids help! (True confessions: FishChick only got to add the finishing touches since I was not really sure WHAT I was doing. Next time she'll get to do more.)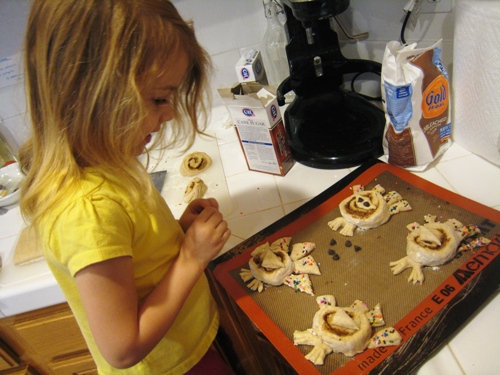 Healthy Turkey Shaped Cinnamon Rolls
1 batch Whole Grain Cinnamon Roll Dough
1/2 batch Whole Grain Cinnamon Roll filling
colored sprinkles and sugar
chocolate chips, raisins, or dried cranberries
Prepare a batch of whole grain cinnamon roll dough. Divide it in half and prepare one half as cinnamon rolls. This should make 8 to 10 rolls. Lay the cinnamon rolls on lined baking sheets, about four per sheet.
Roll out the other half of the dough and freehand cut the additional turkey parts. You'll need:
5 feathers per turkey
1 triangle beak per turkey
1 pair of feet per turkey, like this: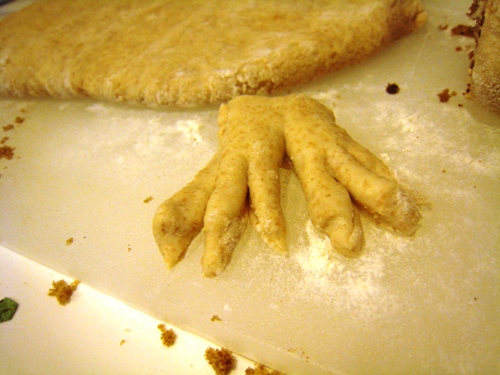 Those feet look freakily real, don't they?! Moving on….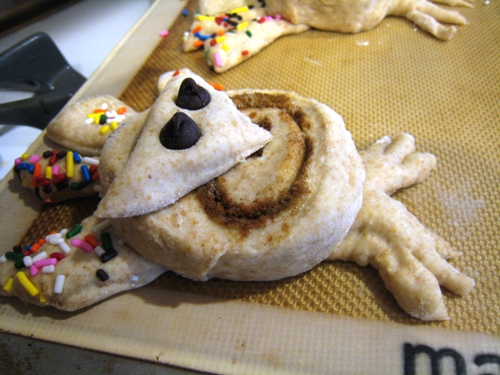 Next, give each cinnamon roll a pair of legs by tucking them under the roll. Add a beak/face triangle. Add two chocolate chips to the face. Roll the feathers in sprinkles or colored sugar and place them around the turkey's back. Tuck them under to secure them. Bake at 375 ° for 20 minutes.
They don't turn out as predictable as the refrigerator cinnamon roll turkeys, but they were still cute. And they're a little bit better for you. Despite the extra work, we'll be making these again.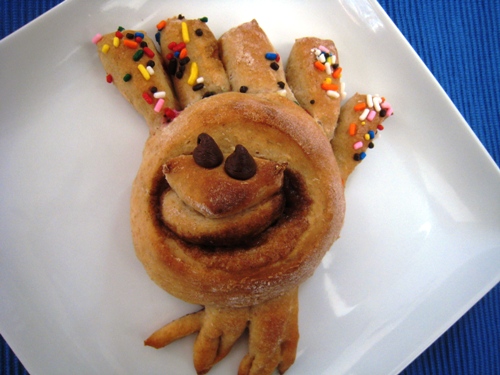 Pair these healthier turkey treats with fresh fruit and some yogurt with honey or maple syrup for a gobbling good breakfast on Thanksgiving!
How do YOU make holiday mornings special?