Make Your Own Specialty Yogurt to Save Money
We are a participant in the Amazon Services LLC Associates Program, an affiliate advertising program designed to provide a means for us to earn fees by linking to Amazon.com and affiliated sites. We participate in other affiliate programs as well. For more details, please see our disclosure policy.
Making your own specialty yogurt at home can be a great way to enjoy a healthy treat as well as save money. Reader Jackie Brown shows us how.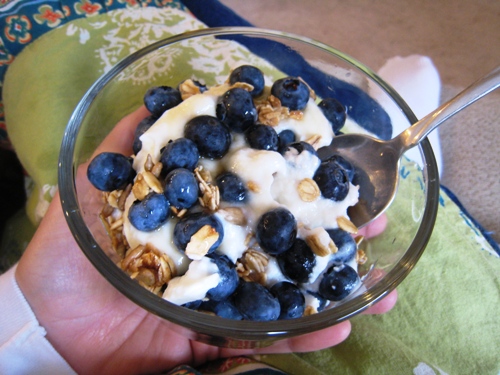 photo source: Life as MOM
Rising food costs means higher priced yogurt. Ouch. Have you seen the cost of Greek yogurt, averaging $3-$5 in some areas for 2-cups? Many homemakers are experimenting with homemade yogurt in a commercial yogurt maker, cooler method or crock pot method.
Frugal Yogurt
I've experienced great results using the crock pot method with help from my three-year-old. When I find milk on clearance, usually $2.50 a gallon for conventional and $3.50 for organic in our area. I can make 8 frugal cups of yogurt for $1.25. I add a .49 box of vanilla pudding if I want to thicken and add vanilla flavor. I can go Greek by straining the whey longer.
Frugal YoBaby
Going a step further with a one-year-old in the household, I'm able to make homemade Yo-Baby yogurt by adding a homemade fruit and vegetable puree. For example, I add one tablespoon of homemade butternut puree along with a tablespoon of homemade applesauce just like store-bought flavors. Add a tablespoon or two of baby cereal if desired and you've got a YoBaby meal. If you're buying commercial baby food, that works too, and your homemade version of YoBaby still comes out cheaper.
Consider these flavors of yogurt, inspired by YoBaby commercial products: simply plain, banana, vanilla, peach, blueberry. Or try these "meals" based on the popular, YoBaby Meals: pear & green beans, peach & squash, apple & sweet potato.
Frugal YoCrunch
I also have a tween who adores the taste of YoCrunch. Now that's another cha-ching from my pocketbook, taking at least a dollar for one serving. With the convenience of homemade yogurt and homemade yogurt, my daughter can whip up a homemade version of YoCrunch for every meal. On a special occasion, chopped up pieces of candy bar or cookies can accompany the yogurt for a special school lunch treat. Grab the clearance candy right after the holidays and stash them in your cooking cabinet for this purpose.
YoCrunch ideas you can try out at home: Oreo, M & M, Reese Pieces, Nestle Crunch Pieces, Butterfinger, Granola
photo source: Mom on a Mission
Fruit Parfaits
Homemade fruit parfaits, such as strawberry, peach, and blueberry, are just as easy and frugal when you buy seasonal fruit. Purchase frozen fruit during off-peak season. Serve fruit fresh, frozen, sweetened or unsweetened. It's all a matter of taste.
Frugal Drinkable Yogurt/Smoothie
Drinkable yogurt is another treat my kids adore. It's typically available commercially in peach, banana, strawberry, and blueberry flavors. Even with double coupons, the tiny containers are not enough to appease my four hungry kids. Once again, blending the homemade yogurt with a fruit puree and additional milk to thin makes a frugal drinkable yogurt. Try blending all natural maple syrup or raw sugar to sweeten to taste. I add a small handful of fresh spinach to my smoothie recipes, which boosts nutrition.
I know of a mom who spends $10 per week on her daughter's name-brand drinkable smoothies. That's a whopping $40 per month for one person's breakfast! Learning how to make homemade yogurt could be advantageous if you're a mom footing that kind of bill.
Another benefit of making homemade yogurt products is knowing — and being able to pronounce everything that's in it. You're in control of the ingredients. Go organic and really save yourself money.
You can be as creative as you like with your frugal yogurt. If you're not careful, you'll be scouting for reduced milk to create a plethora of frugal yogurt products. Yesterday my husband came home with two gallons of reduced milk for only .99 cents. Score! My imaginative eyebrows are raising.
— Jackie Brown is a mom of four, blogging at Mom on a Mission, freezer cooking for her family while serving the homeless and the needy through her freezer education ministry.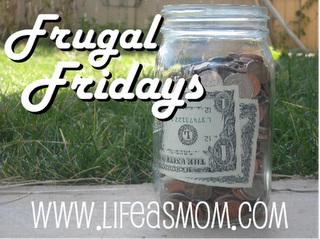 Got a money saving idea?
Share it with us today on Frugal Friday. You don't need to follow any certain theme to link up with Frugal Friday, but your idea or post MUST clearly demonstrate how to save money. Simply linking up a recipe does not illustrate this point. But, explaining how to make something expensive from scratch does. Please keep this in mind as you link up your posts.
Posts that are not obviously money saving tips will be deleted. Thanks for understanding.