Making a Clean Sweep
We are a participant in the Amazon Services LLC Associates Program, an affiliate advertising program designed to provide a means for us to earn fees by linking to Amazon.com and affiliated sites. We participate in other affiliate programs as well. For more details, please see our disclosure policy.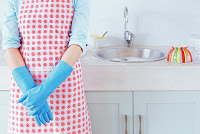 Last week I mentioned some of my summer projects. Last week, I accomplished one! Yeah! Three more to go.
This week my focus is getting things cleaned up around here, including those dreaded closets. Care to come along? Or just feel my pain from afar. Either way, I'd love the company.
Cooking is fun for me. It usually results in something that tastes good (hopefully) and that makes people happy. Cleaning is not fun for me. Though the end result does feel good. It's something I have to push myself to. Thankfully, my kids are all big enough to help and take some responsibility in corralling some of our messes.
One of the things that helps me is that I assign different jobs to different days and try to do them every week. I learned this from The Sidetracked Home Executives. (That book is all about me and my bad habits, in case you were wondering.)
The concept is that if each job has a day of the week to be done and if you don't happen to get to it, you just skip it until next week. Then you're not backed up. You just have to make sure you do it the following week — or it will take four times as long. Ask me how I know; me, the mother of a 4-year old boy who shoots to the left.
For example, Tuesdays are bathroom days. If I do it every week, I can get my time down to 7 minutes per bathroom. (Yes, I'm an overachiever, and I've timed myself.) If I skip it for like 8 weeks, you know like a first trimester of pregnancy, well then it takes a lot longer. Trust me. Doing things often really does save time in the long run.
Needless to say, a lot of my jobs got "skipped" last week due to cooking and swim lessons. So, it's time to get back on the wagon.
Monday – pay bills, check finances, overhaul laundry room, CLOSETS!
Tuesday – clean bathrooms
Wednesday – change sheets on beds, all rooms vacuumed (each boy has a room), FishBoy11 swabs the decks(mops),I supervise, thorough cleaning of kitchen
Thursday – FishBoy 11 vacuums stairs
Friday – supervise all jobs, including all rooms vacuumed, windows washed, furniture dusted
Saturday – catch up, planning
Sunday – rest
Got great plans for the week? Share them with us to inspire and encourage.