Making Connections with MyHeritage.com
We are a participant in the Amazon Services LLC Associates Program, an affiliate advertising program designed to provide a means for us to earn fees by linking to Amazon.com and affiliated sites. We participate in other affiliate programs as well. For more details, please see our disclosure policy.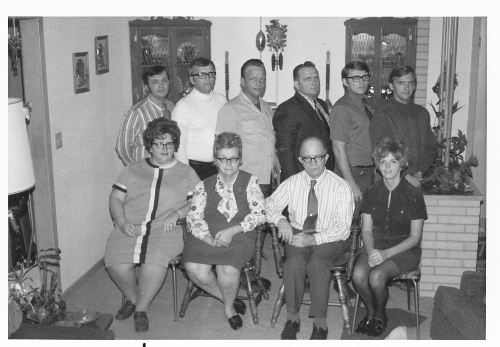 When I was a senior in high school, I took a basics economics class, required for graduation. It was pretty easy (Thanks, Mrs. Clark); the teacher (Hi Mrs. Clark!) was very nice; and I honestly don't remember anything from the class. (Sorry, Mrs. Clark.)
What I do remember is turning the page of my econ book to see a sidebar article about a woman whose profile and success in business was in my high school textbook as an encouragement to students. However, what stood out to me was not that not her success, but her name: Guetzkow,which was the original spelling of my maiden name, Getskow. There weren't many Getskows or Guetzkows in my social circle, so I set out to find out if we were related.
It was 1989 and the internet was operated by a squirrel in a cage, so there was no quick way to contact a total stranger on the other side of the country. Instead, I picked up pen and paper and wrote a letter. I have no idea what I said or who I even mailed it to. But, I got a letter in return from a very distant, twice removed, kind of long-lost relative.
What transpired was a year's journey back in time. I spent the next year researching my family tree and learning all about our family's history. I got books from the library, visited specialty stationery stores for family tree forms, and wrote to county recorder's offices around the country.
In an age before widespread PC usage and the internet, family history was weighty research.
Today? Not so much.
I find it so interesting that one of this month's advertising sponsors of LifeasMOM, MyHeritage.com makes it super easy to make connections with far-flung family members. And with Father's Day right around the corner, climbing around in your family tree sounds like a great family activity.
Here's what MyHeritage.com has to say:
MyHeritage.com is the most popular family network on the web – with a staggering 56 million users worldwide. The free family history website connects families to each other and to their past. It's quick and easy to build a family tree online – and you can invite other family members to help with the project. Once you've started it's really quite addictive.

A unique tool called Smart Matching actually finds matches between your family tree and over 17 million other family trees worldwide…often helping you make fascinating discoveries about your family's history or even to connect to long-lost relatives. MyHeritage.com really makes family history accessible for anyone.

The site is also a great place for storing and sharing family photos and other special memories – a keepsake and reminder of what makes a family's legacy so unique. Get your Dad to scan and upload those dusty old photos of his ancestors…and share the stories he remembers.

Once you've built your family tree and uploaded some photos – your family site on MyHeritage.com offers something for the whole family to do with Dad. Youngers kids can challenge him to an online family memory game on the site and the older kids can send a greeting via the site (without having to expose their Dad to all their Facebook shenanigans!). So in short, if you're short of cash this year – starting a private family site on MyHeritage.com is a great, alternative gift for Father's Day from all the family.
As always, take precautions when sharing confidential information on the web, but it is possible that you can renew old relationships and make connections with family all-around the world, using MyHeritage.com.
Have you ever found a long-lost relative?
Disclosure: MyHeritage.com is an advertising sponsor of LifeasMom.