Making Gifts
We are a participant in the Amazon Services LLC Associates Program, an affiliate advertising program designed to provide a means for us to earn fees by linking to Amazon.com and affiliated sites. We participate in other affiliate programs as well. For more details, please see our disclosure policy.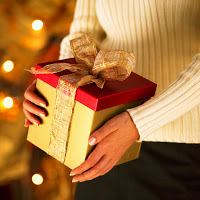 I mentioned how last Christmas our budget was fairly limited. We made a very conscious decision not to spend more than we had. Since we were making an aggressive effort to pay down debt and NOT use credit cards AT ALL and keep a balanced budget, there was no room to go crazy on gifts for our kids. And when you have five, that's a whole lot of craziness.
(Don't worry – their grandparents and aunties and uncles insured that there was plenty of Lego and Playmobil to go around.)
Instead, for our part, we purposed to have fun-filled stockings and to make them each a gift. I'd made gifts before — enough to drive my husband batty. But, usually these gifts were for other people. I'd never made gifts for my own children. But, the one thing that they each really wanted and asked for was something that needed to be made.
Corn bags!
Corn bag? A cloth bag filled with dried feed corn that retains heat when microwaved. It is excellent for warming you up on a cold winter night. And great in summer if you store it in the freezer.
A friend had given us one a few years ago. To be honest, I thought it was a little lame, even corny. (yuk, yuk, yuk.) I know that probably sounds ungrateful, but there have been gifts in my past to make me go, "Huh?"
Our friend admitted when she gave it to us that she thought it was a pretty goofy gift when someone gave one to her. She let it sit in a drawer for a year before she ever used it. I'm so thankful we didn't wait a year! It was a most coveted item that first winter. Certain parents were even known to sneak it out of the beds of their sleeping children.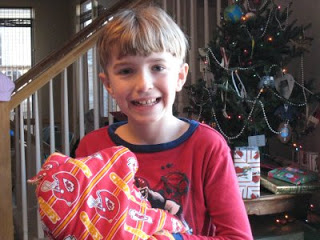 Last year the boys each really wanted one of his own. So, I hunted down fabric to match their interests and personalities and whipped up several, including a few extra for FishPapa and myself.
Everyone was extremely happy with his present. If you want your own cornbags, go here for a wealth of directions. The directions say to use any cotton fabric. Towels are a little more expensive, but they do feel pretty cozy.
I bring this all up to say, now's the time to start thinking and planning about gift-making. You do not want to be crafting until every midnight that December holds. In fact, aim to be done with your projects by December One if you possibly can.
In fact, the first place I ever heard of "Christmas in July" was in a craft store. Now is the time when they get all their supplies ready. And if you plan to craft, now's an excellent time to do so. There's no rush, no stress. You have time to enjoy the process.
That said, help us think of some "knock-your-socks-off-clever-easy-to-make gifts!"
What have you made that really worked for you? Share the details in the comments section so we can all be encouraged and inspired!