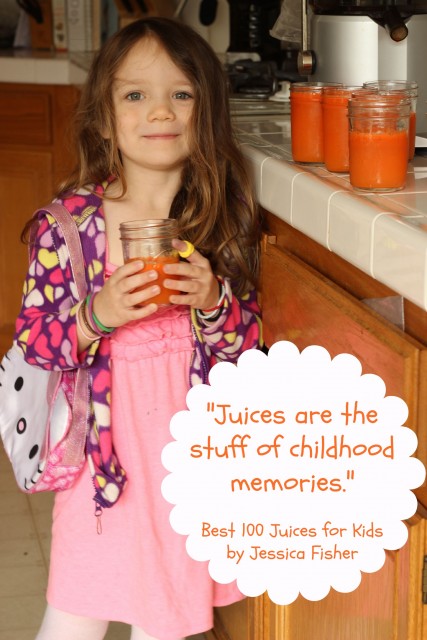 A couple years ago, I purchased our first juicer. My kids really didn't know what to think about the various, colored concoctions that it produced. It was an interesting experience for us both as they overcame their hesitations and drank red, orange, purple, amber, and even green juices.
Last weekend while at Trader Joe's they were offering samples of GREEN juice; my three littles (5, 7, and 9) were with me. Each one grabbed a juice cup and downed it, exclaiming how great it was!
May wonders never cease.
Mr. Picky, you know the one, now looks forward to homemade juices, when he used to greet them with a raised eyebrow and a turned-up nose.
Our experience has been recorded for all eternity in Best 100 Juices for Kids, a cookbook that my kids helped me write. It hits the stores next week at Barnes and Noble or your local indie seller. Or you can pre-order it on Amazon.
I realize that buying a juicer (if you don't already have one) is a big investment. So before you run out and get one, maybe I can answer some questions. I'd love for you to take a minute and fill out this survey about home juicing.
Lay on me all your questions so that I can answer them in post-form (or email) in the coming weeks.
If you've got a juicer already, try one of these recipes: