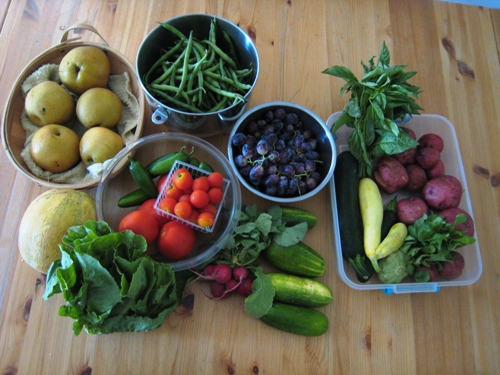 I love it that I'm getting a load of fresh produce each week. While it can be a little awe-inspiring to unpack the box, it's been fun to enjoy such wonderful tasting fruits and vegetables each week.
Last year I tried out a CSA share and it was overwhelming. I felt pressured to find a way to cook a lot of strange vegetables that seemed really expensive in comparison to what I could buy at the store on sale.
But, this produce co-op has provided "normal foods" that we recognize. Also, grocery prices have risen enough to totally justify this expense. Funny how that works.
Still, I have to be on my toes to make sure we don't waste it. One thing that helps is that Abundant Harvest posts the contents of our box by Friday afternoon. This helps me plan our meals for the coming week. This week, we'll have: grapes, lettuce, tomatoes, cherry tomatoes, eggplant, potatoes, melon, cucumbers, squash, bell peppers, oregano, sorrel, and hot peppers. And since I know this halfway through the previous week, I know how to pace myself with the items I already have. We're on our last tomato!
While I don't have any experience with sorrel and oregano, everything else is pretty familiar to me. So far, we've enjoyed salads, crudites, vegetable stews, stir fries, fruit salads, lots of fresh salsa, and roast potatoes. It's been quite delicious.
Another thing that has helped has been to process vegetables for freezing. I blanched lots of corn and green beans. I also cooked up several vegetable stews to freeze. In this way we don't feel pressured to eat it right away, but it will be there for a quick fix on another night when corn or beans aren't so plentiful.
Here's how the meal plan is working out for us this week: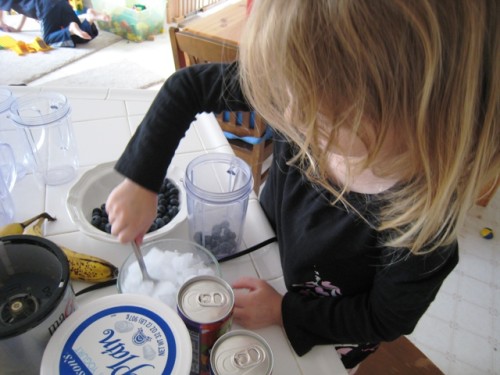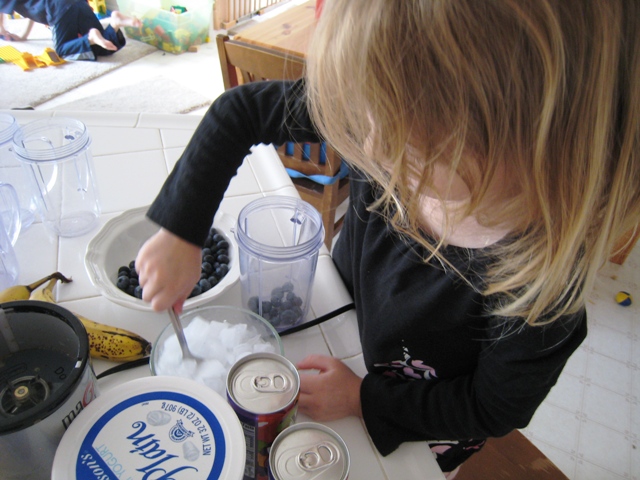 Continental Breakfast
My continental breakfast plan didn't work out as well as I hoped last week. The kids looked at me a little confusedly. So, I'll be making up some kind of menu for them to read — maybe post it on the fridge? And make sure we walk through it together a few more times.
hard boiled eggs
quick breads and muffins
fresh fruit
juice
smoothie fixings
cheese sticks
granola
yogurt and toppings
oatmeal or rice and toppings

Lunches
Turkey or sunbutter sandwiches
Cheese and crackers
Pasta salad
Fresh fruit
Vegetable dippers and hummus

Dinners
served with seasonal produce
What's cooking at your house this week?