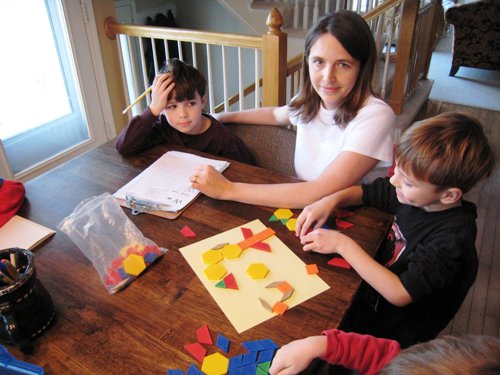 This week on LifeasMOM is all about Loving Life — finding ways to help each of us enjoy life a little more. And for my family and a lot of you, homeschooling is a major part of our lives.
A high school English teacher by training, I became a home educator nine years ago. It has been a wild and crazy ride, but one I am so very thankful for. Not only have I filled the gaps in my own education, but I've experienced such joy and laughter — and a few tears — in watching my children learn about themselves and the world around them.
Learning from Others
One thing that has helped me has been to learn from others in the trenches and those who've gone before me.
There have been older women in my life who have encouraged me and offered suggestions for our school. I have a number of peers who are living proof that homeschooling can produce engaging, intellectual adults. I love reading and writing over at Simple Homeschool as the ladies there encourage me and show me there is more than one way to "do school at home."
And there is a wealth of resources, book, audio, or video, that is available to help you hone your skills and refine your vision for homeschooling.
FishPapa and I have also attended a few homeschool conferences over the years and read a multitude of books. Some of my favorites include The Well Trained Mind, Recovering the Lost Tools of Learning, and Educating the Whole Hearted Child.
To hear another's perspective on home education can be so helpful!
Sometimes, however, physically attending a conference can be a little tricky. Childcare is usually a hard thing for me to swing. That's why I love the concept of the Old Schoolhouse Expo.
The Old Schoolhouse Expo is an online conference that you can listen to while you wash dishes, take a bath or ride on the exercise bike. Talk about multi-tasking!
I'm excited because one of this spring's speakers is one of my homeschooling heroes, Susan Wise Bauer.
For a limited time, tickets cost $19.50. This includes a huge package of freebie gifts to equip you in your homeschooling. This special Early Bird price ends, though, at 11:59 p.m. on February 9. On February 10, the price goes up to $29.00 and the Bonus Freebies will no longer be available. On February 27, the full price of $39.99 will be in effect.
While this Expo doesn't take place until May, you can listen to past conferences to get a feel for what an online expo can be like.
Win Expo 2010
In fact, this week four LifeasMOM readers will win an MP3 of last fall's expo.

To enter, simply leave a comment on this post, telling us what has been the biggest encouragement to your homeschool.
Comments will be accepted until 8 pm, PST, on Sunday, February 13. Winners will be chosen at random and notified via email. Please respond within 48 hours to claim your prize.

This giveaway is now closed. Congrats to the winners: vLmiller04@, euroduck111@, martha@, belauvibes@
Disclosure: I received an MP3 set of last fall's expo. This post does contain an affiliate link.
This week is all about Loving Life. Check out the wealth of ideas for making the most of every minute.
What has been the biggest encouragement to your homeschool?