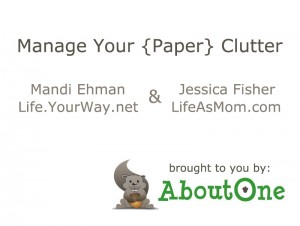 Mandi from Life Your Way and I have joined forces with AboutOne.com to bring you a video series on managing your paper clutter.
We're wrapping up the series this month. This week I address how to organize paper files.
Click here if you can't see the video.
Did you miss the beginning of the series?
Watch Mandi's introduction to the sources of paper clutter here.
Part 2: Sorting Paper Clutter
Part 3: What Papers Should You Keep?
Part 4: Digitize Your Files
Be sure to visit AboutOne.com and learn how it can help you manage what matters most!
What tricks do YOU use to manage your paper files?