Manage Your Paper Clutter: Organizing Paper Files
We are a participant in the Amazon Services LLC Associates Program, an affiliate advertising program designed to provide a means for us to earn fees by linking to Amazon.com and affiliated sites. We participate in other affiliate programs as well. For more details, please see our disclosure policy.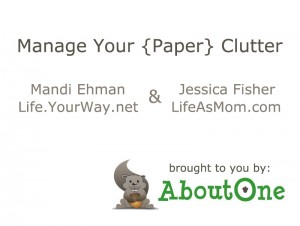 Mandi from Life Your Way and I have joined forces with AboutOne.com to bring you a video series on managing your paper clutter.
We're wrapping up the series this month. This week I address how to organize paper files.
Click here if you can't see the video.
Did you miss the beginning of the series?
Watch Mandi's introduction to the sources of paper clutter here.
Part 2: Sorting Paper Clutter
Part 3: What Papers Should You Keep?
Part 4: Digitize Your Files
Be sure to visit AboutOne.com and learn how it can help you manage what matters most!
What tricks do YOU use to manage your paper files?