Mashed Potatoes Book – An Adoption Fundraiser
As an Amazon Associate I earn from qualifying purchases. For more details, please see our disclosure policy.
How can a book about Mashed Potatoes become a family favorite AND bring five kids home at the same time?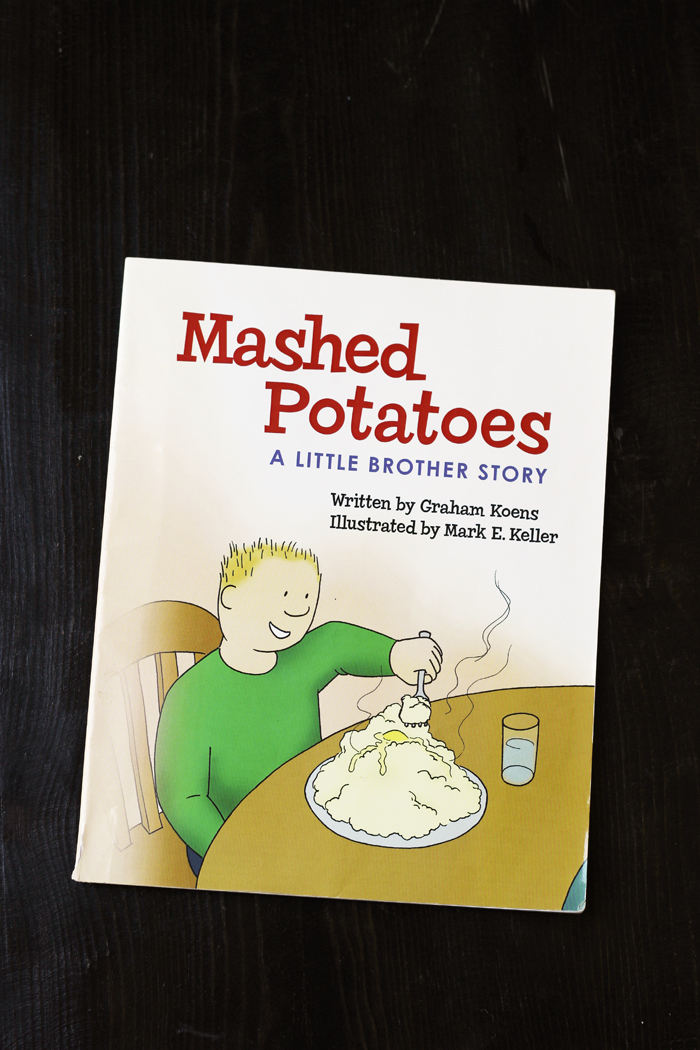 This book is called Mashed Potatoes. Years ago my friend Carrie – then just a random blog reader who I didn't really know — sent me a copy of this book that she and her husband self-published.
To my surprise, this little book quickly became A FAVORITE with my kids. The three littlest FishKids were just itty-bitties at the time, and they often requested Mashed Potatoes as a read aloud. I've kept our tattered copy because I know that my littles will enjoy reading it to their littles someday. And because I am loathe to let go of keepsake storybooks.
When I was looking for it to photograph, my girls both said, "That book? I LOVE that book." See?
Carrie and I got to know each other shortly afterward and you will recall that she was one of my Booking It co-hosts for several years. We bookworms stick together. While we shared a love of Jesus, books, and good food, we had one key difference – I had a small army of children while Carrie and her husband had chosen not to have children.
Fast forward a few years and God is changing Carrie's story in a dramatic way: she and her husband are adopting not one, but FIVE children. She is getting her small army of children in one fell swoop! How fun and crazy and amazing is that?!
Why am I telling you these two seemingly random factoids? Well, because they are connected!
All the proceeds from the sale of Mashed Potatoes are going toward the adoption costs to bring these five kiddos to their forever home.
Mashed Potatoes Book – An Adoption Fundraiser
I thought you might want to know because we like to get the biggest bang for our buck, right? You can buy the book, a fun little story, AND support the Koens' adoption. Pretty cool, right?
If you're not interested in the book, you can contribute straight to the adoption fund.
Not able to do that? No worries. I'm sure they would love for you to pray for them. God has asked a big YES from them, and I know they could use your support for them in prayer.
Thanks so much!
P.S. Carrie has no idea I'm doing this. She didn't ask, but I felt that this was a good space to tell you about it. Friendships are born here. And hers is one that I enjoy because of Life as Mom.
P.P.S. When I originally posted this, I offered a special matching donation. I'm thrilled to report that we were able to donate $50 on behalf of Life as Mom readers. Thanks for supporting the Koens!