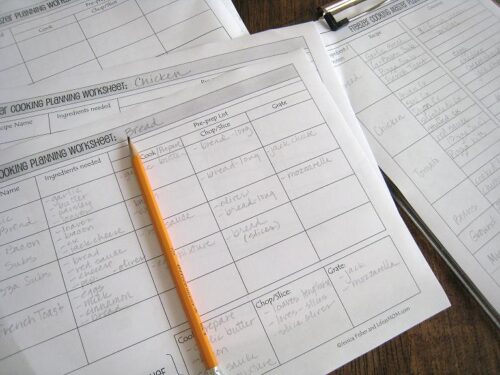 For the last week or so, I've been quizzing my family about the recent meals they've enjoyed, and we've been brainstorming new recipes to try.
Is it absolutely necessary that we love what we eat?
Yes. No. But, it sure makes meal times easier if the family enjoys it. Fussy children are not high on my list of favorite things. And if we are all enjoying our meal, dinner becomes an experience to remember instead of a chore to endure.
The purpose of my meal interrogation was to assist me in planning out my freezer meals for the next month. Since May promises to have more great weather and family adventures than previous months, I've tried to focus on meals to grill, like marinated chicken, and easy grab-and-go items like burritos and large sub sandwiches to throw in the oven.
My list may seem large, but remember that I am doing the bulk of my cooking for the month of May, and many of these items share common ingredients, a hallmark of freezer cooking that really speeds things up. An asterisk* indicates that the recipe is forthcoming.
Now is the perfect time to prepare for outdoor parties. Mix up your favorite marinades and place in ziptop bags. Add the meats and zip closed. Freeze. A night or two before grilling, pull out a bag and place in a pan in the refrigerator. The meat will marinate as it thaws.
Main Dishes
Stuffed Chicken Breasts*
Chicken and Bacon Subs*
Pizza Subs*
Marinated Chicken
Pizza Kits
Burritos/Chimichangas
Red Sauce
Shredded Chicken
Side Dishes
Garlic Bread*
Garlic Mashed Potatoes*
Cooked Beans
Breakfasts
Oven French Toast
Cinnamon Rolls
Chocolate Butterhorns
Mixes
Pancakes
Mix and Match Muffins
Cornbread*
*Asterisk indicates that the recipe will be coming. Wait for it!
What are you going to cook up and freeze this month?
Don't forget to link up at MoneySavingMom later this week. And if you've got freezer cooking questions, don't forget to stop by the Twitter Party tomorrow from 12-2, PST, Thursday the 29th. We'll be using the hashtag #oamc and you can follow us @MoneySavingMom and @FishMama. See ya then!