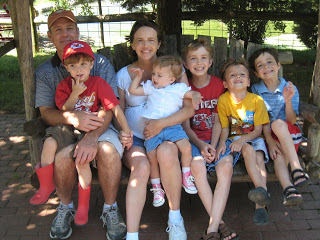 And in case you were wondering….
yes, they like the Chiefs even though they're the worst team in the NFL
yes, the boots are all-weather, all-season. All the FishKids have a pair of black ones, only FishBoy 4 has a fancy red pair. And, yes, they attract quite a lot of attention.
yes, I have become more freckled over time and I'm not sure I like it. I suppose I could start wearing makeup….
yes, they really are that stinkin' cute, especially FishPapa.
Now I'm off to cook!